Texas Wildlife & Woodland Expo
Save the Date!
Saturday, March 2
10 a.m. - 4 p.m.
Lone Star College-Montgomery
3200 College Park Drive
Conroe and The Woodlands, Texas 77384
Come learn, explore, and discover from the experts
Texas Wildlife & Woodland Expo and Spring Fling – a free, how-to event – affords families, youth and adults a chance to get outdoors – learn about the natural environment – recognize the significance healthy forests, trees, wildlife, and pollinators have on clean air, clean water and our overall health.

If you have a question about one tree or hundreds, if you have a question concerning your landscape or insects, gardening or if you want to attract butterflies, bees, and birds to your home – WE HAVE THE ANSWERS!

It doesn't matter if you live in an urban apartment, condo, or house with a small patch of grass or have acres of forests and wildlife to explore; Texas Wildlife & Woodland Expo and Spring Fling has got you covered.

This event is designed to bring experts from the natural resource professions to one location for you to ask questions and learn through live demonstrations and hands-on application.

And for the little ones, the adventure area is where they can participate in archery, kayaking, fishing, digging in the dirt with earthworms, make a birdhouse and so much more.

At Expo & Spring Fling, you'll play for a day but learn for a lifetime.
Volunteers Needed
Check in will begin at 8:30 a.m. by the Parking Garage. Lunch and t-shirts for volunteers who sign-up. You will receive your meal ticket from the zone supervisor.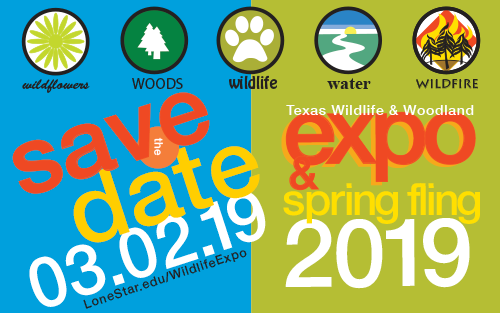 ---
For the safety and comfort of others, PLEASE, NO PETS allowed on the grounds of Lone Star College-Montgomery campus during the Texas Wildlife & Woodland Expo/Spring Fling.
Texas A&M Forest Service | 936.273.2261 | expo@tfs.tamu.edu
The Texas Wildlife & Woodland Expo was funded in part through a grant awarded by the Southern Region, State and Private Forestry, US Forest Service. Texas A&M Forest Service is an Affirmative Action Equal Opportunity Employer committed to excellence through diversity. Copyright © 2010-2011 Texas A&M Forest Service. All rights reserved.