About LSC-TV
Brief Station History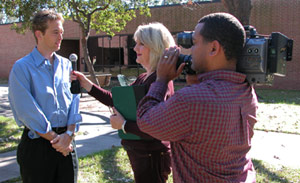 Lone Star College-Kingwood opened in 1984 and is one of five colleges in the Lone Star College System. In January 1999, the president of Lone Star College-Kingwood and the owner of Kingwood Cablevision entered into an agreement to establish the Lone Star College-Kingwood Community Channel. Our station currently has a service area of 17,000 Suddenlink Communications subscribers, primarily in Kingwood and parts of Porter.
LSC-TV operates 24 hours a day, seven days a week, and 365 days a year with a mission of serving the community. Channel 24 focuses on five areas of programming: community and public service, leaders in our community, our local schools, college credit telecourses and paid programming.
Community and public service programming includes coverage of public, civic and charitable events, holiday celebrations, and activities of community organizations. Leaders come from within our community in various ways. We feature stories about the "everyday people" of our friends and neighbors and the stories and issues that affect our community. Paid programming extends advertising opportunities to local businesses with programming options that can explain their goods and services in greater detail. Telecourse programs offer students the opportunity to further their education in the comfort of their home.
Our goals and objectives are straightforward: we want to feature the assets that make Kingwood a great place to live and work. LSC-TV strives to enrich viewers' lives with programming designed to increase awareness of local events and issues. By being better informed, viewers take an active role in our community and support our local businesses.
LSC-TV Staff
Garrick Joubert
Phone: 281-312-1521
Program Manager / Adjunct Faculty
MA, Higher Education Administration, Sam Houston State University
BS, Communications/Liberal Arts, McNeese State University
Eddie Brega
Phone: 281-312-1544
Television Videographer and Producer / Adjunct Faculty
BFA, Film and Television Production, Chapman University


Dan Ko
Phone: 281-312-1522
Television Videographer and Producer
MFA, University of Southern California
Linda Woehst
Phone: 281-312-1458
On-Air Talent / Producer
LSC-TV also employs student interns to write, shoot, and edit programming.