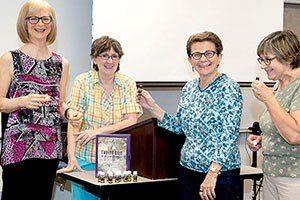 Lone Star College-Kingwood invites all retired, semi-retired, and working senior citizens to join the Academy for Lifelong Learning (ALL). The program offers a multitude of free and low-cost classes and events for people who want to make new friends, learn a new hobby, or share their expertise.
ALL is a membership community adults age 50 and older. Members and prospective members are encouraged to attend an ALL Open House on Jan. 10 from 2-4 p.m. at the LSC-Atascocita Center or on Jan. 29 from 1-3 p.m. at the East Montgomery County Improvement District (EMCID) in New Caney.
"All adults who are interested in attending lectures, seminars or discussions are encouraged to attend one of our open houses," said Pat Chandler, LSC-Kingwood continuing education director and system program manager for ALL. "We cover a wide-range of topics and have lots of locations to make it easy for people to participate."
More than 150 classes will be offered this spring covering a wide-variety of interests such as arts and crafts, gardening skills, photography techniques, health and wellness, technology, genealogy, yoga, literary discussion groups and many more. Classes are short-term, non-credit, and can last a few hours to several weeks. All programs provide members with a learning environment of continued personal and intellectual growth.
"The ALL program is a great avenue for seniors to mingle with other people, discuss similar problems and keep their minds active," said Helen Michelini, an ALL member since 2007. "I have made life-long friends since day one and this organization will help seniors get out of the house and stay active."
In addition to the many courses and programs offered, members also take monthly field-trips to a variety of attractions in Houston. METRO has transported members to museums, various historical sites in downtown Houston, parks, theaters, Rice University, and many more. Additionally, Harris County Precinct 1 buses are reserved to take members on interesting out-of-town trips.
The ALL program began in February 2004 at EMCID and in 15 years, the program has grown to more than 800 active members. ALL is a volunteer program and courses are taught by members, LSC-Kingwood and LSC-Atascocita Center employees, and area residents. Additional volunteers are needed to answer phones, greet and assist members and help set up for classes. Annual membership is $20 from Sept. 1-Aug. 31, and all courses offered are free and taught by volunteers. Some classes may require small event, supplies or entrance fees. There are no educational requirements.
LSC-Atascocita Center is located at 15903 West Lake Houston Parkway. EMCID is located at 21575 Highway 59 North in New Caney. For more information about ALL, call 281-312-1750 or 281-312-1660, visit http://www.lonestar.edu/all-kingwood.htm, or email kwall@lonestar.edu.
Register now for credit classes online through myLoneStar. Classes are offered days, evenings, or weekends in traditional, online and hybrid formats. For more information or to register online, visit www.lonestar.edu/registration. For general information about Lone Star College-Kingwood, call 281.312.1600 or visit http://lonestar.edu/kingwood.
Lone Star College offers high-quality, low-cost academic transfer and career training education to 99,000 students each semester. LSC is training tomorrow's workforce today and redefining the community college experience to support student success. Stephen C. Head, Ph.D., serves as chancellor of LSC, the largest institution of higher education in the Houston area with an annual economic impact of nearly $3 billion. LSC consists of six colleges, eight centers, two university centers, Lone Star Corporate College and LSC-Online. To learn more, visit LoneStar.edu.
###