Lone Star College Night at Minute Maid Park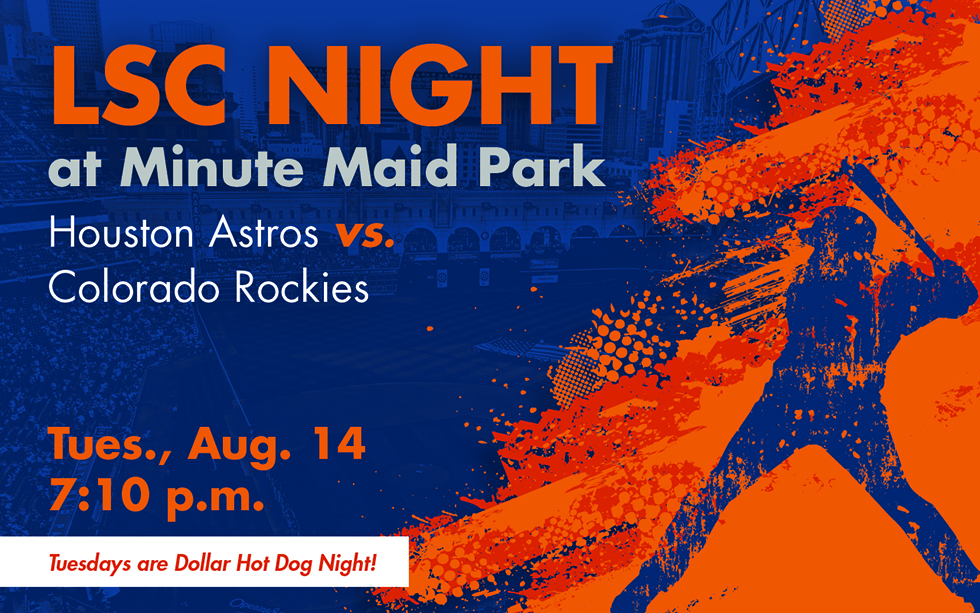 Take me out to the ballgame!
Join us and the Astros at Minute Maid Park on Tuesday, Aug. 14, Astros vs Colorado Rockies (and Tuesdays are Dollar Hot Dog Night)! Game time is 7:10 p.m. Be sure to arrive early because there will be several exciting LSC events taking place on the field before the game!
LSC Student Dream Day
Lone Star College-University Park student Celena Chapa will be honored before the game. Celena recently completed her first year of studies and is now working toward earning an Associate Degree in Business Management with a minor in Child Developmental Psychology. Thanks to the Lone Star College Foundation, Celena was awarded the Houston Northwest Medical Center Endowment scholarship. Celena will be working with one of her professors on a Suicide Prevention project this fall and plans to transfer to the University of Houston. Lone Star College-University Park President Dr. Shah Ardalan will present her with a special commemorative baseball bat on the field. Congratulations and best of luck to Celena Chapa!
LSC First Pitch Ceremony
The first pitch will be thrown by Matt Braswell. Sandra and Michelle Braswell recently established The Mark Braswell Memorial Scholarship which will provide tuition for Lone Star College-CyFair students attending the Fire Science Academy. The endowment at the Lone Star College Foundation in Mark's name will go a long way to help many Lone Star College students achieve their dream of becoming a firefighter.
LSC PD Honor Guard
The Lone Star College Police Department Honor Guard will present the colors during the national Anthem. The LSC Police Department Honor Guard serves at the discretion of the Chief of Police and is a specially trained unit within the ranks of our agency. The Honor Guard serves a very special purpose, as it is a vital public relations tool, which projects a positive image of our police department and profession and dedication to the community.