PACE College Sign Up
PACE College
PACE College helps families learn key requirements and link relevant concepts needed to prepare for life after High School. LSC-CyFair works in conjunction with CFISD to support 9th grade students and parents to become college ready.
Time and Location
9:00 a.m. - 1:00 p.m.
Lone Star College-CyFair campus
What to Expect
Students and Parents will attend ďmini-sessionsĒ taught by LSC-CyFair and CFISD Staff and Faculty.
STARR Test
Dual Credit
Placement Exams
Educational Path to Success
College Culture
Campus Tour
Register for PACE College
Contact Information
For more information about the CARE initiative, contact your College Connections counselor on your studentís high school campus. Please feel free to contact the CARE advisors for more information or questions:
Teresa Walling
CARE Coordinator/Advisor
281.290.3568
CyFairCARE@lonestar.edu
†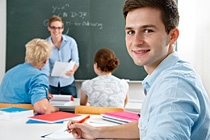 CyFair CARE Team