CARE Initiative
Welcome to the CyFair CARE Initiative / CARE Academy website! We are excited to serve students in our surrounding communities! CARE stands for College Awareness, Readiness, and Education. The CARE Academy is a team effort between Lone Star College-CyFair and Cy-Fair ISD to reduce the need for remediation among recent high school graduates and accelerate college developmental education sequence.
Contact Information
High School Students
For more information please contact your College Career Specialist on your High School campus.
Lone Star College Students
For more information about the CARE initiative please contact our CARE Coordinator:
Teresa Walling
CARE Coordinator/Advisor
CyFairCARE@lonestar.edu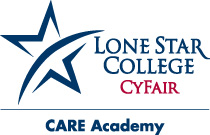 Resources