Center FAQs
What ages must children be to attend the Child Care Center?

Children must be between 18 months and 12 years of age in order to attend the Lone Star College-Montgomery child care facility. Exceptions will not be made at this time.
What are your hours of operation?
Summer Hours
Monday through Thursday, 7 a.m. - 5 p.m.
Friday, Saturday and Sunday, CLOSED
Hours during the Fall & Spring semester
Monday through Thursday, 7 a.m. - 5 p.m.
Friday, 7 a.m. - 1 p.m.
Saturday and Sunday, CLOSED
The Child Care Center is not open during holidays or scheduled Lone Star College school vacations.
Is this a full time drop off child care facility for anyone?

No. The LSC-Montgomery Child Care Center is only for the children of registered LSC-Montgomery students and its employees. Students and staff may utilize the services of the Center during the hours they are in class, lab, or study time, within the indicated hours of operations. Students are required to stay on campus during the time their child(ren) are at the Child Care Center. Students must complete and submit the Child Care Interest Form, Enrollment packet, and a copy of their current schedule indicating class times prior to having their child(ren) attend the Center. All completed forms must be returned to the child care coordinator in Student Services, Bldg. C, Admissions Desk, prior to the first day of attendance.
As a reminder, the Child Care Center is not a daily drop off facility. Children must be registered during specific hours and may not just be dropped off during hours of operation.
Who will be supervising my child(ren) at the Center?

The Center is staffed by teachers through the Interfaith Child Development Center, a non-profit program of The Woodlands.
What activities will my child be participating in at the Center?

The child care staff, in collaboration with Interfaith, will establish a weekly educational plan revolving around various themes. The Center does provide a variety of age appropriate activities, toys, books, and movies for children to play with. Children also have the opportunity to participate in outdoor supervised play activities. School age children may also work on homework assignments as needed at the Center, provided they bring the appropriate materials with them.
Does the Child Care Center participate in religious teachings?

No. Although affiliated and staffed by Interfaith, the Child Care Center staff does not teach any religion classes to the children.
Can I tour the Center at anytime? Or do I need to make an appointment?

For security reasons no one will be admitted for a tour without first obtaining a tour ticket from the child care coordinator or an advisor in student services. You may obtain the pass in the C building at the Admissions Desk. Tour times are available Monday-Thursday from 9-11 am. and 3-5 p.m.
How much does it cost to have my child(ren) attend the Center?

Fees for child care services will be assessed by LSC-Montgomery at $6.00 per hour for each participating child. The cost will not be prorated for partial hours. Students are responsible for paying for all child care fees and are not prorated for any absences (i.e. illness, other child care arrangements). These fees will not be deducted from any financial aid award.
What types of payment options does the Child Care Center offer?

Students have the opportunity to either pay in full for the entire semester or set up a monthly payment plan with the child care coordinator. There will be no monetary refunds for drops or withdrawals from the Child Care Center.
What if I enrolled my child in the Child Care Center and I no longer require their services?

It is the students responsibility to notify the child care coordinator and the Child Watch staff immediately when a course has been added/dropped, total withdrawal, or any other changes have occurred. Fees will not be reimbursed. Failure to notify the child care coordinator of a change in enrollment status while continuing to use the facility, is a violation of the Student Conduct Code. The Student Conduct Code and Student Discipline Procedures can be found in the current Lone Star College catalog.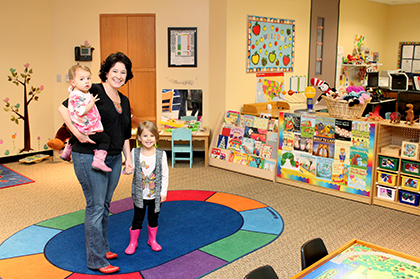 Location, Contact & Forms
Contact
Kasey Martinez
mcchildcare@lonestar.edu
Ph: 936.273.7452
Office: Bldg. C, Admissions Desk
Location
The Child Care Center is located in Bldg. A, Room A102.
Please bring all documentation to Bldg. C, Admissions Desk.
Child Care Forms