Current Students
|
Student Life
|
LSC-CyFair Student Life
|
LSC-CyFair Clubs
|
LSC-CyFair Chess Team
|
Simultaneous Blindfold Chess Exhibition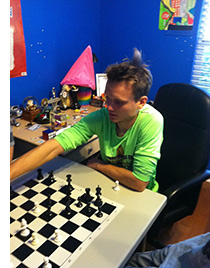 International Grandmaster Timur Gareev
is returning to our college to give a simultaneous blindfold chess exhibition on Sept. 14, 2013 in the conference rooms (CENT 152-153).
GM Gareev is one of the highest rated chess grandmasters in America. He tied for 3rd place in the recently completed U.S. Chess Championship held in St. Louis.
He will showcase his blindfold talents by taking on 8 players at a time in four flights. Tentative flight times are 8:00 am, 10:00 am, 1:00 pm and 3:00 pm. Prizes will be awarded for wins, draws and good play. Pre-register now to save your spot! Until spots are filled, you can choose your flight time and board number.
The entry fee is $20 for the first family member and $10 for each subsequent family member, so family participation is encouraged!
The entry fee for Lone Star students is $15.
All proceeds will be donated to a local charity.
For more information, please contact todd.thomas@lonestar.edu.