LSC-Montgomery Child Care Center
Interfaith Child Development Center

The Interfaith Child Care Center is available for use by registered Lone Star College-Montgomery students and employees and their children. Students may use the Child Care Center during the hours they are in class, lab, or involved in student time during center business hours.
How to Enroll
We accept child care enrollment forms prior to the start of each semester. As a reminder, the Child Care Center will not be open during major holidays, school vacations, mini-mesters or Winter Break. For questions, please check our Frequently Asked Questions page, or call 936.273.7452.
Please read the Parent's Handbook and ensure that all Enrollment Documents are filled out completely before turning them in to Student Services (located in Bldg. C). Partially completed packets will not ensure a space in the Child Care Center.
Learn more about who we are

Interfaith Child Development Center is a non-profit, non-denominational program of The Woodlands Religious Community, Inc. The facility at Lone Star College-Montgomery is licensed by the State of Texas to care for children 18 months through 12 years. For more information about Interfaith of the Woodlands visit our website www.woodlandsinterfaith.org.
Why we care
It is our belief that the child is the reason for the existence of the Child Care Center.  Therefore, the child is the chief beneficiary of our labors. The fruition of this belief is only realized if the curriculum, events and daily routines evolve around the child.
While each age group has its own specific goals, the overall goal of the Child Care Center is to help each child develop socially, emotionally, physically, cognitively and morally in order so that each child becomes a contributing member of society.
We are licensed
The Child Care Center at LSC-Montgomery is subject to the licensing requirements of the state of Texas.  The Texas Department of Family and Protective Services oversees our quality based on the Minimum Standards of Child Care Facilities.  Their information and our yearly reports may be found at www.dfps.state.tx.us.  To contact the Department of Family and Protective Services, call 936.525.2181 for the local area office.  If you suspect neglect or abuse, the hotline number is 1.800.252.5400.
Tuition & Fees
Fees for child care services will be assessed by LSC-Montgomery at $6.00 per hour for each participating child. The cost will not be prorated for partial hours. Students are responsible for paying for all child care fees and are not prorated for any absences (i.e. illness, other child care arrangements). These fees will not be deducted from any financial aid award. Fees may be paid in the following manner:
Spring and Fall Payments
Payments can be paid in full prior to the first day of attendance or by establishing a payment plan with the child care coordinator. There will be no refunds for drops or withdrawals from the Child Care Center.
Summer Payments
Payments must be made in full for the entire summer term prior to the first day of attendance. Payment plans will not be available. There will be no refunds for drops or withdrawals from the Child Care Center.
Payments
Payments must be made at the Business Office, located in Bldg. E. The Business Office accepts the following types of payments: Cash, Check, Money Order, Credit Card (VISA, American Express, Discover, and MasterCard).
A payment drop off box is available in Bldg. E, next to the Business Office.
A copy of your child care fee schedule may be obtained from either the child care coordinator or Business Office at any time. For payment questions or concerns, please contact Kasey Martinez at 936.273.7452.
Please Note: It is the student's responsibility to notify the child care coordinator and the child watch staff immediately when a course has been added or dropped, there is a total withdrawal, or any other changes have occurred. Fees will not be reimbursed. Failure to notify the LSC-Montgomery Child Care Center of a change in enrollment status, while continuing to use the facility, is a violation of the Student Conduct Code. The Student Conduct Code and Student Discipline Procedures can be found in the current Lone Star College Catalog.
Still have questions?
Check out our Frequently Asked Questions page, or contact us by filling out the form below.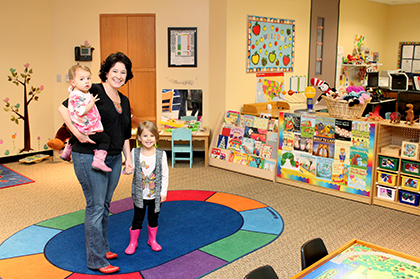 Location, Contact & Forms
Contact
Kasey Martinez
mcchildcare@lonestar.edu
Ph: 936.273.7452
Office: Bldg. C, Admissions Desk
Location
The Child Care Center is located in Bldg. A, Room A102.
Please bring all documentation to Bldg. C, Admissions Desk.
Child Care Forms