Hangzhou & Beijing, China - May Study Abroad
Spend next May in China and still earn college credit! With this study abroad opportunity, you will experience modern China while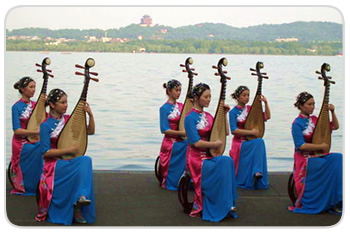 learning its language, history and culture. You will get the rare opportunity to experience the day-to-day life of the Chinese and visit some of the most famous sites such as Tiananmen Square and the Great Wall. Of course you will also complete coursework in both World History I and Beginning Chinese I. This once-in-a-lifetime program maximizes your time abroad while minimizing the cost. Learning in a classroom is great, but exploring China in person is priceless!
Read the Professors' Travel Blogs
In the summer of 2007, professors Carolyn Ho and Robert O'Brien traveled to China to research study abroad opportunities. They visited many universities and facinating provinces, including Soochow University in Suzhou and the Wuxi Institute of Technology. Throughout their trip they kept a travel blog to share their experiences with you.
Proceed to read their blogs. >>
Program Overview

As part of a six week course, LSC-CyFair offers a learning community in Beginning Chinese I and World History I during the 2009 Summer semester. Students will earn four credits for the language course and three for the history class. Twenty days of the six weeks will be spent in China, mostly at Zhejiang University in Hangzhou. While in China, instruction by LSC-CyFair professors Carolyn Ho and Robert O'Brien will take place at Zhejiang University facilities and via field trips in the Hangzhou area. Students will have an opportunity to visit cultural sites such as the historic West Lake, Lingyin Buddhist temple, statues and carvings, the Grand Canal, China Silk Museum, China Tea Museum, Traditional Chinese Medicine Museum, Baopu Taoist Temple, China Ancient Papermaking and Printing Village, and Six Harmonies Pagoda.
The last four days in China will be spent in Beijing touring the Forbidden City, Tiananmen Square, Olympic venues and Great Wall. The streets, markets and restaurants of both Hangzhou and Beijing will serve as further cultural introduction to China and an "open language lab" for learning Chinese.
Staying on campus at the International College of Zhejiang University and utilizing public transportation on some days will help to minimize costs for the trip. Students should be prepared for substantial walking each day.
Contact Us

Carolyn Ho - Professor of ESL (ESOL) and Chinese
TECH 100-A - 281.290.3980 - carolyn.ho@lonestar.edu

Robert O'Brien - Professor of History
TECH 200-I - 281.290.3257 - robert.obrien@lonestar.edu

Katalin Fountain - Coordinator for International Education
LRNC 246 - 832.482.1055 - katalin.fountain@lonestar.edu

Fees & Costs
Program Fee
The program fee (not including course tuition) for the study abroad activity will be approximately $3,700 per student with a minimum enrollment of ten students. This fee includes:
International airfare (round trip US-China)
Transportation for and admission to all field trip activities
Accommodation at the International College of Zhejiang University in Hangzhou and two nights in Beijing
Selected meals at the International College of Zhejiang University and on field trips
Travel insurance
Visa application fee
Instruction
Due to international currency fluctuations and fuel costs for airlines, the program fee is subject to change.
Tuition
Tuition for the course is the standard tuition for the Lone Star College System. The program includes two courses (CHIN 1411 - 4 credit hours; HIST 2321 - 3 credit hours) taught in a fully integrated team environment. Registration for both courses is required. As of September 2008, tuition for 7 credit hours is $334 in-district, $754 out-of-district and $859 out-of-state.
Additional Individual Expenses
Students are expected to pay for some of the meals on their own. This is intended to encourage interaction with local Mandarin speakers. Information on dining out in Hangzhou will be provided during orientation. Estimated cost of a meal in Hangzhou is between $2 and $5.
Financial Aid
You may be eligible for Financial Aid. The LSCS scholarship deadline is Nov 14. Please read for more details. >>

Registration Process
Please follow the instructions below to sign up for the program.
1. Download and complete the Study Abroad Program Application Form.
Download the Application - Adobe PDF >> MS Word >>
2. Submit the application form along with a $500 deposit, payable to "Lone Star College-CyFair" to Carolyn Ho, Robert O'Brien or Katalin Fountain. Upon receiving the application form and deposit, a space will be reserved for you.
3. Pay in full of the program fee no later than March 1, 2009. Pending available space, students may apply for the course after March 1, but payment in full of the program fee is required with the application.
4. During the standard registration period for Summer 2009 classes, students will register for both CHIN 1411 and HIST 2321 as listed in the course schedule. Only students who have submitted a deposit toward the program fee may register for these courses. Payment of college tuition and fees must be made according to the payment terms of the college.
5. Students who have submitted application to the program will receive a packet of participant forms to be completed and returned to Carolyn Ho, Robert O'Brien or Katalin Fountain no later than March 1, 2009.
6. All students must attend one orientation session prior to departure for the program.
Important Dates
2008
November 3 - Scholarship Information Session, 1-3 p.m., Technology Center, Room 104-A
November 5 - Scholarship Information Session, 1-3 p.m., LSC-Fairbanks Center, Room 111
November 14 - Scholarship deadline
2009
October 2008 - February 2009 - Submit Study Abroad Application Form and $500 deposit to reserve a space
March 1 - Application deadline and final full payment due
April 1 - Chinese visa application due (Students must also have up-to-date passport by this date.)
The course begins and ends at LSC-CyFair with weeks 2-4 in China.
May 11 - First class meeting at LSC-CyFair (Classes held Monday-Thursday.)
May 15 - Leave for China, flying into Shanghai
May 17 - Orientation at Zhejiang University in Hangzhou
May 18-31 - Classes at Zhejiang University and excursions in and around Hangzhou (Classes held Monday-Friday.)
June 1-4 - Beijing trip and fly back to U.S. on June 4
June 8-11 and 15 and 16 - Final six classes meet at LSC-CyFair
Facilities
Zhejiang University is located in the coastal city of Hangzhou, which is about 180 miles away from Shanghai. The university was founded in 1897 and is one of the oldest institutions of advanced learning in China. It enjoys the reputation as a leading research university under the direct administration of China's Ministry of Education. Zhejiang University is among China's top-ranked universities, featuring academic excellence in teaching, research, and community service.
The International College of Zhejiang University is located on the Yuchuan Campus, near the picturesque West Lake. Transportation to West Lake and downtown Hangzhou is less than 10 minutes away by taxi. Bus service is available within walking distance.
The facilities of the International College include 370 single rooms and over 40 suites and double rooms, each with a private bathroom and a study desk. Telephone, satellite TV and Internet connection are available. Shared kitchens, washing machines, and dryers are on site.
In addition to the accommodations, the building also houses classrooms, study rooms, a language lab, a coffee bar and a dining hall. On-campus meals are served a la carte. The daily expense for on-campus dining is estimated between 15 to 40 RMB yuan ($2-6).
Hangzhou and Beijing
Hangzhou is the capital of Zhejiang Province, a coastal area directly south of Shanghai. As part of the Yangzi River delta, Hangzhou and surrounding northern Zhejiang, at one time, served as a bread basket for the northern half of China. Hangzhou is a city that dates back more than 2,000 years, but became an important commercial center after 600 A.D., when the Grand Canal was built. The Grand Canal, a 1,000 mile-plus waterway, allowed Hangzhou, the southern terminus, to be connected to Beijing in the north.
As the capital of the Southern Song Dynasty for 150 years in the twelfth and thirteenth centuries, Hangzhou has a rich cultural history. During this time, Hangzhou served as a brief home for Marco Polo, the city's most famous Western visitor. Polo, like many Chinese, sang the praises of Hangzhou, calling it one of the most beautiful places on earth. Much of the beauty results from Hangzhou sitting on the scenic West Lake, which poets and artists have used in poems and paintings for more than 1,000 years.
Today, Hangzhou is a bustling city of 6 million that draws numerous tourists and still serves as a hub in China's booming economy. The Hangzhou area also produces much of China's famous silk and Longjing, China's best known green tea.
Day trips that are a possibility from Hangzhou include taking in some of the sites of Shanghai, one of the world's biggest cities, or touring a nearby canal town to experience a bit of rural China.
Beijing, the capital of China and most recent host of the 2008 Summer Olympics, is a young city by Chinese standards as it was built 1,000 years ago. In the fifteenth century the Ming Dynasty constructed the Forbidden City, the emperor's palace. It is so named because the palace area and its 800 buildings were off limits to most of the public for 500 years. This 2.6 million square-foot complex is one of China's most famous attractions and is adjacent to Tiananmen Square, another popular tourist site. North of Beijing is China's Great Wall. Construction on the world's most famous fence began more than 2,000 years ago as an attempt to keep out invaders.