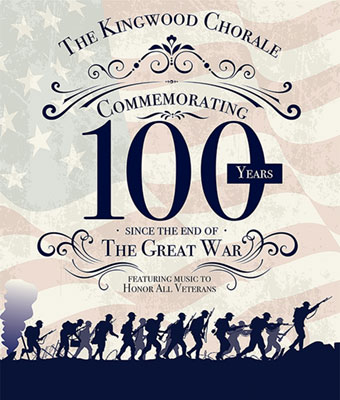 World War I, dubbed "The Great War," was an international war fought 1914-1918 that involved many European nations, including Russia, as well as the United States, the Middle East, and other regions.
To commemorate the 100th anniversary of the ending of the war, and to honor all veterans, the Kingwood Chorale along with guest artists will perform a special patriotic concert. The two-day musical event will take place Nov. 10 at 7:30 p.m. at the First Presbyterian Church of Kingwood, and Nov. 11 at 6 p.m. at the Atascocita United Methodist Church.
"Our goal is to honor the great sacrifice of our WWI veterans and celebrate all who have ever served in the military," said Dr. Todd Miller, chorale director and professor of music at Lone Star College-Kingwood.
The first half of the concert will showcase popular music from the WWI era, including hits such as "Over There" and "You're A Grand Old Flag." The event will also feature poetic readings from the great writers who served in the war. The first half will conclude with a dramatic performance of Ralph Vaughan Williams' short eight-minute anthem, "Lord, Thou Has Been Our Refuge." Vaughn Williams served during the war and wrote this piece after it ended.
The second half of the program will feature patriotic songs, including new medley arrangements by Paul English and John Cornelius. Musical guests include violinist Xia Xia Zhang and pianist Dr. Robert Hunt. Before each performance, there will be a 45-minute pre-concert lecture on WWI by Dr. Kathleen Barr, a historian.
Concert tickets are $20 for general admission and $15 for students and seniors. Group discounts are available. The First Presbyterian Church of Kingwood is located at 5520 Kingwood Drive. The Atascocita United Methodist Church is located at 19325 Pinehurst Trail Drive. For more information, call 832-779-1492 or visit www.LHMAS.org.
Register now for credit classes online through myLoneStar. Classes are offered days, evenings, or weekends in traditional, online and hybrid formats. For more information or to register online, visit www.lonestar.edu/registration. For general information about Lone Star College-Kingwood, call 281.312.1600 or visit http://lonestar.edu/kingwood.
Lone Star College offers high-quality, low-cost academic transfer and career training education to 99,000 students each semester. LSC is training tomorrow's workforce today and redefining the community college experience to support student success. Stephen C. Head, Ph.D., serves as chancellor of LSC, the largest institution of higher education in the Houston area with an annual economic impact of nearly $3 billion. LSC consists of six colleges, eight centers, two university centers, Lone Star Corporate College and LSC-Online. To learn more, visit LoneStar.edu.
###