Clinical Training Sites
Clinical Training Sites
All nursing students receive hands-on training one or two days each week at one of the following medical facilities. In this environment, students synthesize new knowledge, apply previous knowledge and gain experience managing the workflow in real-life, real-time situations. Practical experience is gained simultaneously with theory learned in the classroom. Close direct supervision is provided by an accompanying NHC faculty member in the clinical setting. The variety of facilities allow students to develop proficiency in acute, long term and community-based environments. Both daytime and evening sessions are available. Students may choose their site and session as space allows.
The links below will take you to some of the websites of medical facilities with whom we frequently partner. Specific clinical training sites may vary each semester. Other clinical training locations may be available as well.

Houston Northwest Medical Center
Houston Northwest Medical Center offers an extensive range of health services and medical programs designed to meet the Northwest Houston area's health care needs. Valuable services are offered not only to patients and families in our hospital, but also to members of the community
Houston Northwest Medical Center

HealthSouth
HEALTHSOUTH is the nation's largest healthcare services provider, with approximately 1,700 facilities in all 50 states and abroad. Our vast network of highly skilled physicians and therapists and the latest equipment and technology guarantees that all patients have easy access to high quality healthcare.

Kindred Healthcare
Kindred Healthcare is a nationwide provider of healthcare, primarily through the operation of skilled nursing centers and long-term acute care hospitals. "Taking care of people who cannot take care of themselves."
Kindred Healthcare - Houston Northwest Campus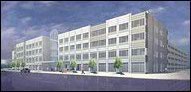 Memorial Hermann The Woodlands Hospital
At Memorial Hermann The Woodlands Hospital, the latest advances in healthcare are right in your neighborhood. Specialty services include heart and vascular services, outpatient imaging, a cancer center, pediatric medicine and women's care. Facility features include a surgical ICU to treat patients who have undergone neurological, cardiovascular and thoracic surgeries and diagnostic and interventional cardiac catheterization labs, as well as the Continence and Bladder Health Center.
Memorial Hermann The Woodlands Hospital is a member of the Memorial Hermann System.
Memorial Hermann The Woodlands Hospital