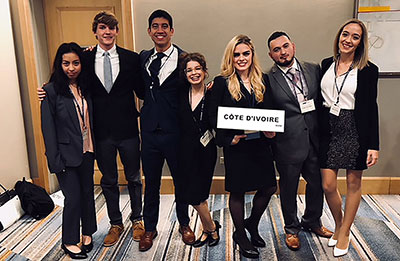 Lone Star College-Kingwood students use their civic responsibility to make a difference in the world.
Each spring semester, select students travel to New York and participate in the annual National Model United Nations (NMUN) Conference. The NMUN, which is sponsored by the National Collegiate Conference Association (NCCA), is the largest college-level Model United Nations. Students gain knowledge of international relations, increase their understanding of the United Nations, and learn more about other countries.
"Students learn a great deal about our world and its problems. They are able to learn how to view problems from the perspective of other countries," said Peggy Lambert, History professor. "This conference enables them to build their leadership skills, while interacting with students from a variety of countries."
This year, LSC-Kingwood represented Côte d'Ivoire, a country in West Africa. Based on students' position papers, speeches, and presentations, the group earned the "Outstanding Delegation" award for the fourth year in row. In addition, the group also earned three position awards and one best in committee award.
"Only a small percentage of the colleges and universities can be named an 'Outstanding Delegation'. Most of the students at the conference are either upper division/graduate/law students at universities who having been preparing for at least one to two full years for the conference," Lambert said.
Attendance at this conference is very selective and competitive. More than 6,000 delegates, half from outside the United States, come to New York City each spring to discuss current global issues on 20 selected committees. LSC-Kingwood students who attended this year's NMUN Conference were Jhaniece Gay-ya, Caleb Ford, Erick Platero, Zoe Simmons, Sarah Porter, head delegate for entire delegation; Francisco Granados, and Natalee Bachant. LSC-Montgomery and LSC-Tomball were in the same delegation with LSC-Kingwood.
"The 'Outstanding Delegation is a major accomplishment for any college/university—especially a community college! There is no doubt that participation in NMUN has helped many of our delegates earn major scholarships and admittance to the university of their choice," Lambert said.
Student delegates must have a minimum 3.0 GPA and be willing to make a major time commitment to the program. During the fall semester, the delegation (LSC-Kingwood, LSC-Tomball, and LSC-Montgomery) meet regularly to research their assigned country, the United Nations, and the committees on which the country serves. Each committee is assigned three topics to study and is responsible to prepare formal speeches that reflect their country's position on each topic. In addition to papers and presentations, the students work to pass resolutions, which are sometimes adopted by the United Nations. The delegates also have the opportunity to hear United Nations' leaders speak on current international issues.
For more information on the NMUN program or to apply for the next year, email Peggy Lambert at Margaret.N.Lambert@LoneStar.edu or Stephanie Kelly at Stephanie.M.Kelly@LoneStar.edu.
Register now for summer and fall classes online through myLoneStar. Classes are offered days, evenings, or weekends in traditional, online, hybrid formats. Register online at www.lonestar.edu/registration. For general information about Lone Star College-Kingwood, call 281.312.1600 or visit http://lonestar.edu/kingwood.htm.
Lone Star College offers high-quality, low-cost academic transfer and career training education to 97,000 students each semester. LSC is training tomorrow's workforce today and redefining the community college experience to support student success. Stephen C. Head, Ph.D., serves as chancellor of LSC, the largest institution of higher education in the Houston area with an annual economic impact of $3.1 billion. LSC consists of six colleges, eight centers, two university centers, Lone Star Corporate College and LSC-Online. To learn more visit LoneStar.edu.
###