College Sustainability Program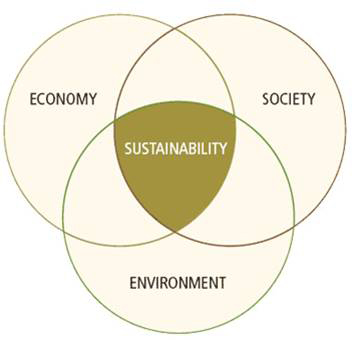 Welcome to the Lone Star College-Kingwood College Sustainability Blog. The contents of this Blog and the posts herein are the personal opinions of the Blog Administrator and authors of the postings. They do not necessarily represent the policies or positions of Lone Star College-Kingwood, the Lone Star College System or their employees.
The college President, Dr. Katherine Persson established the position of Program Manager, College Sustainability in 2009 as a part time position. The goal of the position is to establish a culture of sustainability on campus and as an example to the community. That goal is being accomplished by the programs discussed in this Blog.
Sustainability has been defined by the LSC-Kingwood Sustainability Council as:
"Sustainability is the responsible and beneficial use of resources in such a way as to maximize the quality and availability of the resources for the future."
Sustainability is more than just environmental conservation as the graphic shows. It also includes consideration for the economy and society as resources to be conserved. Sustainability is described by the attributes of environmental development, economic equity and social justice. Sustainability is like a three legged stool because its three elements are so interrelated.
This Blog is intended to be a dialog on everything sustainable – and some that are not. We hope you will join the conversation with comments and topics of your own.
A video with definitions of sustainability appears in a post dated June 24, 2014.