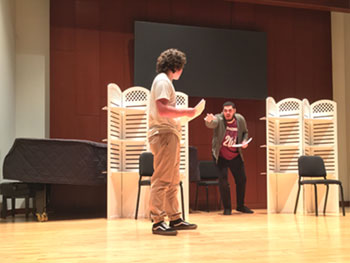 After a year of devastation due to Hurricane Harvey, comedy is the antidote that many people can use right now.
Lone Star College-Kingwood will fulfill this need with its 2018-2019 Theatre Season. Themed, "Laughter Resounds," the humorous season will begin with "The Complete Works of William Shakespeare (Abridged) [Revised]" on Nov. 7-10 at 7:30 p.m. in the Music Recital Hall. The production is nearly 100 minutes long and includes one intermission.
"'Laughter Resounds' flows out of an idea that we needed some comic relief this year. 'Resounds' paints such a good picture of laughter that continues and echoes after each show ends," said Eric Skiles, artistic director of theatre at LSC-Kingwood. "We hope this is good therapy after all of the crazy experiences we have been through in the last year."
In "The Complete Works of William Shakespeare (Abridged) [Revised]," five men try to explain and act out the grandeur of Shakespeare's plots with ever-increasing comic results. Each actor will assume multiple roles in each of Shakespeare's plays, complete with new voices and costume changes. Every single play is represented, with a special focus on "Romeo & Juliet," "Titus Andronicus," "Macbeth," and "Hamlet."
"Any audience member, whether they know about Shakespeare or not, will enjoy an evening of comedy. The show explains Shakespeare and demonstrates some of the poetic and dramatic genius of the Bard," Skiles said. "After our experiences with Harvey, we wanted to create a light-hearted season with fast-paced shows that make people laugh and feel good," Skiles said.
"The Complete Works of William Shakespeare (Abridged) [Revised]," cast consists of Skiles as Actor "A," Gaylen Hunt (community member) as Actor "B," Ibrahim Refahi (student), as Actor "C," Bruce Arrick (alumni) as Actor "D," and Matthew Camidge (student) as Actor "E." Other participants include Kalliope Vlahos, scenic/lighting/sound design; Skiles, costume design; Taylor Kenney, stage manager; Ariana Gonzalez, assistant stage manager; Marissa Mascolo and Diamond Perez, backstage costumes; and Michael Rickli and Shayna Brown as crew.
"The Complete Works of William Shakespeare (Abridged) [Revised]" by Adam Long, Daniel Singer and, Jess Winfield is produced by special arrangement with Broadway Play Publishing Inc., in New York City. Tickets are $14 for general admission, $12 for seniors age 55 and older, and $7 for students. For more information call the LSC-Kingwood Box Office at 281-312-1532.
Lone Star College offers high-quality, low-cost academic transfer and career training education to 99,000 students each semester. LSC is training tomorrow's workforce today and redefining the community college experience to support student success. Stephen C. Head, Ph.D., serves as chancellor of LSC, the largest institution of higher education in the Houston area with an annual economic impact of nearly $3 billion. LSC consists of six colleges, eight centers, two university centers, Lone Star Corporate College and LSC-Online. To learn more, visit LoneStar.edu.
###