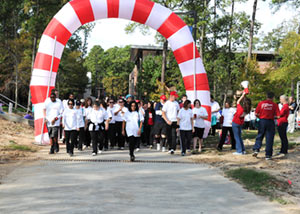 Area residents are encouraged to lace up their walking shoes and get ready to walk for a good cause as Lone Star College-Kingwood hosts the American Heart Association's (AHA) 14th annual 5k Greater Lake Houston Heart Walk and Heart Fest on Saturday, Nov. 3.
This annual event is designed to raise awareness and funds for AHA's research and education programs. Registration and warm-up will begin at 8 a.m., and the walk starts at 8:30 a.m. All activities – located behind the college's Performing Arts Center – are free with an emphasis on heart and health.
"The purpose of the heart walk is to engage local communities in the American Heart Association's mission to be a relentless force for the world of longer, healthier lives," said Ashley Adair, AHA corporate market director– Bay Area and Greater Lake Houston. "The event will not only raise funds to support life-saving research, education, and programs, but will bring together co-workers, business partners, clients, family, and friends in the commitment to live a heart-healthy lifestyle."
The 2018 event co-chairs are Noel Cárdenas, vice president of operations at Memorial Hermann Northeast and Keith Isbell, chief operating officer of Rolling Dough– a franchise of Panera Bread. Isbell is a heart and stroke survivor and will serve as this year's survivor honoree at the walk.
The 3.1-mile course travels along Kingwood Place. Most walkers should complete the route in 30 to 45 minutes. Participants are encouraged to bring their cheering squad to give them support as they cross the finish line. Individuals choosing not to walk can enjoy the Heart Fest, which begins at the same time. The fest includes music, food, a kid's zone and a variety of fun games and educational activities for adults and children.
"Heart disease is the number one killer of Americans and stroke is number five. The heart walk allows an opportunity for the entire community to participate and take ownership of their health," she said.
This year's goal is to raise $135,000. Individual walkers who raise $100 will receive an AHA t-shirt at the heart walk. Top walkers will receive a certificate to redeem for prizes on AHA's website after the event. Funds raised at the heart walk will support AHA's priorities of making discoveries by funding life-saving research, educating people through CPR training, health education and youth programs, and changing communities through local events.
AHA works with each sponsor to invest a percentage of their gift back into the Lake Houston Area community through a customized partnership. This year's sponsors are Panera Bread, Memorial Hermann Northeast Hospital, Encompass Health Rehabilitation Hospital of Humble, Vital Heart & Vein, Robbins Chevrolet & Nissan, Kindred Rehabilitation Hospital Northeast Houston, McCord Development-Generation Park, Kingwood Emergency Hospital, Kingwood Medical Center, and Community Resource Credit Union.
For more information on the Greater Lake Houston Heart Walk or to start a team, visit www.greaterlakehoustonheartwalk.org. LSC-Kingwood is located at 20000 Kingwood Drive.
Lone Star College offers high-quality, low-cost academic transfer and career training education to 99,000 students each semester. LSC is training tomorrow's workforce today and redefining the community college experience to support student success. Stephen C. Head, Ph.D., serves as chancellor of LSC, the largest institution of higher education in the Houston area with an annual economic impact of nearly $3 billion. LSC consists of six colleges, eight centers, two university centers, Lone Star Corporate College and LSC-Online. To learn more, visit LoneStar.edu.
###