LSC-Montgomery Criminal Justice Department
What is Criminal Justice?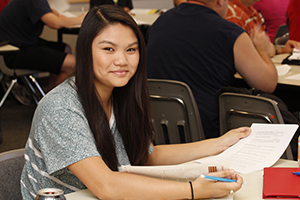 An associate degree in criminal justice will prepare the student for a career in the criminal justice–police, parole, probation, corrections, and juvenile offender programs, to name a few.
Choosing to pursue a degree or certificate in criminal justice at Lone Star College-Montgomery is a great way to get started in a growing, exciting field. All indications are that the criminal justice field is outpacing other career opportunities in the local, regional and national arenas. Additionally, by choosing LSC-Montgomery as your starting point, you will have access to excellent instructors, small class sizes, and outstanding student support. Also, your tuition will be significantly lower than by getting started at a major university.
What careers can a criminal justice major pursue?
While many criminal justice majors pursue careers in law enforcement and policing, the coursework also provides a wonderful starting point for those interested in the legal field. In fact, many criminal justice majors are interested in becoming lawyers, paralegals, and other types of law-related personnel. Other careers that criminal justice majors can pursue are in the social and human services arena, as well as private investigation.
How is the job market?
There is currently a healthy demand for those pursuing criminal justice-related careers. In Texas, in particular, criminal justice is a growth industry for the foreseeable future. However, certain jobs are requiring higher and higher standards in terms of education and training. Therefore, LSC-Montgomery's criminal justice program is designed to flow directly into most bachelor degree programs, so that students can get the most extensive, up-to-date knowledge prior to entering the field.
Can I transfer into a four-year degree?
Yes, all criminal justice classes at LSC-Montgomery are fully transferable to any criminal justice program in Texas, and are transferable as electives to most other programs. The University Center, conveniently located on the LSC-Montgomery campus, offers a bachelor's degree in criminal justice through Sam Houston State University. Many colleges and universities offer bachelor's and master's degrees in criminal justice.
What can I expect to earn in the criminal justice field?
Starting salaries have increased quite a bit in recent years. For example, the Harris County Sheriff's Department is starting around $32,000 for new officers and the Houston Police Department is at $30,000 plus an additional $2,600 if you have a bachelor's degree. It is possible that by 2010, all types of departments will require at least an associate's degree, and many federal agencies already require a bachelor's degree. Salaries vary depending on the type of career that a criminal justice major chooses.
How can I get started?
Take advantage of LSC-Montgomery's continuous registration and enroll today! Admission is available for those who meet any one of the following criteria:
* Graduated from an accredited high school.
* Transferred from another college or institution.
* Successfully completed the GED (General Education Development).
* Received individual approval from the Division of Behavior Science, English, Language, and
Speech at 936.273.7374.
* Completed an assessment placement test.
Faculty & Staff