College Relations at LSC-CyFair
The Office of Public Relations and Community Outreach (College Relations) promotes the mission, values and ideals of Lone Star College-CyFair through contact with external and internal audiences. The staff plans, develops, implements, evaluates and manages the college's comprehensive marketing plan, and also handles public relations for the college and campus wide events.
What's the Buzz?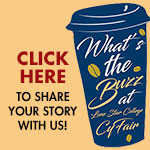 Have a story about an event, program, or person at Lone Star College-CyFair that you think should be shared? Let us know and it could be featured on our website, a news release, or in Cy's Spotlight!
EVENTS
Room & Event Booking
Use this link to book a one-time room use or event reservation at Lone Star College-CyFair.
Event Planning
Follow these guidelines to reserve a meeting space, reception hall, auditorium or any other college space for your event.
Room Reservation Examples
Visit this page to see photos of the rooms available on our campus, so you can better visualize how to use the space for your own event!
MARKETING
Work Requests
Do you have a job for the Office of Public Relations and Community Outreach? Use this link to request the production of a handout or poster, the update of an existing web page or the creation of a new one, and marketing through the use of press releases, internal TV monitors, our new outdoor marquee, and social media such as FaceBook and Twitter. A Work Request form is required for all jobs assigned to this department.
Promotional Items
Information on Lone Star College-CyFair give-away items and gift bags.
MEDIA
Contact for Media Inquiries
This page lists the Lone Star College-CyFair personnel whom the media should contact for public information.
Model Release Form
You must sign a Model Release form before Lone Star College-CyFair can use photos or recordings of you from a campus event on our website or promotional materials.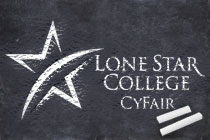 Contact Information
Barker Cypress Campus
CENT 155
Phone: 281.290.3944
Fax: 281.290.3294
Michelle Tran
Executive Director
CENT 155C - 281.290.3944
Celia Harper
Special Events Coordinator
CENT 155A - 281.290.3937
Clay Brasher
Graphic Designer & Publications
CENT 155G - 281.290.5992
Donny Jansen
Web Coordinator
CENT 155F - 281.290.3513
Tammy Wiederhold
Department Assistant
CENT 155 - 281.290.5979
Kelly Ann Norton
Media Relations Coordinator
CENT 155E - 281.290.3969