Youth / Discovery College
Registration Going on Now!
Lone Star College has a variety of summer camp programs for kids that are educational and fun!
Through Discovery College, your child has a unique opportunity to develop skills and learn new ones in a warm, friendly environment. Knowledgeable instructors will teach classes in a variety of subject areas with curriculum developed to encourage learning in a relaxed and creative atmosphere.

Sessions include Digital Photography, Robotics, Web Design, and Survivor. Read more »

Sessions include Duct Tape Art, Robotics and Old School Games. Read more »


Sessions include Model Rocketry, Treasure Hunting, and Sports. Read more »

Sessions include Robotics, Math in Real Life, and Adventures in Art. Read more »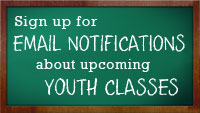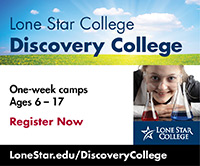 CE Contact Information
LSC-CyFair
LSC-Kingwood
LSC-Montgomery
LSC-North Harris
LSC-Tomball
LSC-University Park