Durbin works with the traditional symbol of the wedding dress and veil to question and re-examine the role of women and their expectations in regard to their lives. There is a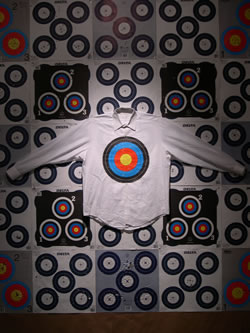 dichotomy of expectations and traditional mores that emerges from these icons. This exhibit will be on display March 19 through April 29 with an opening reception April 16 from 12-2 p.m.
The artist states, "Touch is an essential connection to life weaving an unconscious thread to the human spirit. My art evolves intuitively through a manipulation of concept, surface, color, texture, form and textile. My purpose is to touch people's spirits with beauty and healing."

Fiber and textiles have always been associated with the aesthetics of feminine presence, creative power, ancestry, social relationships and fragility. In ancient cultures, cloth served as a metaphor for the transitory nature of life - from the origin of birth, to the final passage of death. It retained memory. Textiles have a rich history of spiritual healing, connection and protection on many symbolic levels. Dual in nature, it represents physical and spiritual philosophies, conscious and unconscious realities. This tactile art medium expresses my feminine and masculine qualities, my inner and outer worlds.