Student Employment Services
LSC Career Services offers job listings and job search resources to help you find employment. Career counselors are available to help you with writing your resume, developing a job search and preparing for job interviews.
Job Search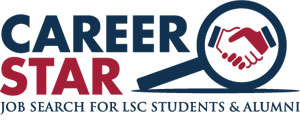 Please contact your campus career advisor to gain free access to the job board. Register Today! Our preferred job search web site for students and alumni is CareerStar which includes on-campus, off-campus, internships and employment opportunities.
Interested in learning more about salary and career options? Check out the latest Salary Calculator.
Resume, Cover Letter and Interview Skills

We can assist you with developing your resume and cover letter, while also providing you with useful interview skills. Contact your career advisor at your local campus or email LSC-JobPlacement@LoneStar.edu to schedule an appointment today. An online mock interview program is available for free, 24/7. This is an excellent tool for you to practice interviewing before your next big interview! This program works with any PC or Mac; a webcam is needed for optimal use. Perfect Interview Tool
Career Services has provided a sample Cover Letter and Resume for your review.
Check out the latest gift to graduates with Gradcast Information! Gradcast may provide a resume distribution list which targets employers that hire your skill set and provide the latest instruction on post graduate employment services for alumni.