Endowment
An endowment is a permanently restricted fund established by a donor. Endowments can begin with as little as a $1,000 contribution and donors have seven years to reach the required $15,000 minimum. Once that balance is reached an annual scholarship is awarded in perpetuity. As the endowment grows in multiples of $15,000, additional scholarships can be awarded annually in perpetuity. The Foundation Board of Directors is fiduciary responsible for the management of endowment funds. A formal investment policy provides for both growth and expenditures.
How do I fund an endowment?
Donations are accepted in the form of outright contributions, support of special events such as the annual Golf Tournament or StarGala, memorials or honorariums. A donor has seven years to complete their commitment and activate their endowment scholarships.
How do I establish an endowment?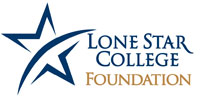 It is easy to establish an endowed scholarship in your name, in the name of your business or in honor of someone you love. By doing so, an annual scholarship will be given in perpetuity to a student who meets the requirements of your scholarship. Representatives of the Lone Star College Foundation will work with you to execute an endowment agreement, designed with or without criteria (stipulations, demographics, college or colleges attended, academic standing, academic programs, etc.). An endowment full-funded by December 31 of one year will be awarded for the following academic year.