LSC-Montgomery ESOL Department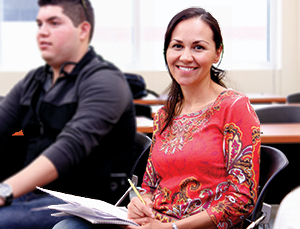 Lone Star College-Montgomery offers English as Second Language courses for non-native speakers who are interested in improving their English. Coursework focuses on the key elements of language acquisition—reading, writing, and oral communication. Intensive English for Speakers of Other Languages (ESOL) is a cost-effective and rigorous program of academic excellence.
Scheduling
The program at LSC-Montgomery is flexible, offering classes in the morning, early afternoons, and evenings. The 16-week, semester-long intensive programs begin in August and January; the summer program runs 8 weeks during June and August.
Courses
Four levels of English language training bring learners up to proficient levels in speaking, reading, writing, listening, and grammar: high beginning, intermediate, high intermediate, and advanced. Advisors work with the students to find the level that is best suited to their skills.
Smart classrooms provide students and faculty with access to the Internet, Auralog, and word processing skills to compliment class instruction.
Enrollment
Students must first apply for admission to Lone Star College before taking classes. Once the process has been completed, students will be given a placement exam to help determine which level of coursework best suits their skills.
The Campus
Set on the campus of LSC-Montgomery, the program offers students access to the resources of one of the largest community college districts in the state of Texas.
Our setting provides students with a unique opportunity to continue their academic careers. On successful completion of the program, students are able to take undergraduate classes at LSC-Montgomery; some courses can be taken concurrently with ESOL classes.
The University Center, set on the south side of the campus, offers undergraduate and graduate degrees from six area universities degrees.
Academic
Courses are designed to provide potential students with the skills necessary to succeed in an academic setting. After successful completion of this program, students can directly transfer into LSC-Lone Star College–Montgomery academic credit classes.
Continuing Education
The courses are also structured to meet the needs of non-credit students who want to improve their English for professional or personal reasons. For more information on the Continuing Education aspect of the coursework, contact 936.273.7446 | LSCMCE@lonestar.edu.
International Students
International students are eligible for an F-1 student visa.
Contacts
LSC-Montgomery has an experienced, informed staff, who can help you begin the program.
Brandy Harvey
Dean
936.271.6155
Office: G-120B
Romana Cortese
Chair and Professor ESOL
936.273.7484
Office: G-120G
Renee La Rue
Associate Professor, ESOL
Phone: 936.273.7285
Office: G-121B