Exhibition Schedule
Spring 2015 Exhibition Schedule
Al Nash: American Icons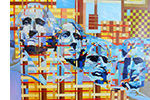 January 20 - February 12
Reception: Thursday, February 5, from 4:30 - 6:30 pm
Houston artist Al Nash created an eclectic collection of media ranging from oils and acrylics to prismacolor and graphite on canvas, wood, hardboard and paper. Sizes vary as well as styles, ranging from realistic to pop art.
Margaret Smithers-Crump: Life Lines

February 24 - April 2
Reception: Thursday, March 19, from 4:30 - 6:30 pm
An evocative exhibition presenting luminous paintings by Houston artist Margaret Smithers-Crump. The artist uses translucent Plexiglas as her primary art material to create luminous paintings and art installations comprised of three dimensional forms resembling large crystals that are arranged in a galaxy pattern on floor of the gallery space.
Art Student Exhibition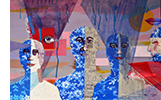 April 21 - May 1
Reception: Thursday, April 30, from 4:30 - 6:30 pm
The annual exhibition of work by some of our talented student artists.
Gallery Location
The Bosque Gallery is located in the Center for the Arts at the Barker Cypress campus:
9191 Barker Cypress Road
Cypress, Texas 77433
Dates and details are subject to change at any time. Please check back periodically for updates.
Bosque Gallery Hours:
| | |
| --- | --- |
| Monday, Wednesday | 11:00 am - 2:00 pm |
| Tuesday | 10:00 am - 1:00 pm |
| Thursday | 9:00 am - 12:00 pm |