Exhibition Schedule
Summer 2015 Exhibition Schedule
Chalkboard Series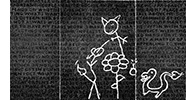 June 8 - July 16
Reception: Wednesday, June 10, from 12:00 - 2:00 pm
Chuck Drumm explores the evolution of discovering one's personal truths in this series that exemplifies the third phase of development in children's art, Symbolism, in which children recognize the story-telling possibilities of art.
Real Whimfansical

July 28 - September 17
Reception: Wednesday, August 5, 4:30 - 6:30 pm
Leticia Frankio has been drawing and painting since her youth in Venezuela. Over the years she has worked as an artist in various jobs and has mastered a wide range of techniques. Her current exhibit, Real Whimfansical displays her talents in whimfansical style, mixed with fantasy and realism.
Gallery Location
The Bosque Gallery is located in the Center for the Arts at the Barker Cypress campus:
9191 Barker Cypress Road
Cypress, Texas 77433
Dates and details are subject to change at any time. Please check back periodically for updates.
Bosque Gallery Hours:
| | |
| --- | --- |
| Monday, Wednesday | 11:00 am - 2:00 pm |
| Tuesday | 10:00 am - 1:00 pm |
| Thursday | 9:00 am - 12:00 pm |