Faculty and Staff
Dean
Cassandra Rincones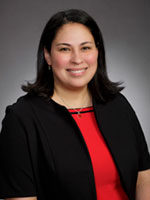 Dr. Cassandra Rincones, dean of the Social Sciences and Humanities Division, joined LSC-Kingwood in 2013 as an associate professor of history. Rincones earned a Bachelor of Arts degree in History from Texas A&M University in Kingsville. She holds a Master of Arts degree in U.S. History from the same institution. Rincones earned a Ph.D. from Texas A&M University in May of 2015, specializing in U.S./Southwest Comparative Border studies.
Rincones has been awarded several fellowships and grants, including the Lone Star College Chancellor's Dissertation Research Grant, the Race and Ethnic Studies Institute Fellow from Texas A&M University, and the Catarino and Evangelina Hernández Research Fellowship in Latino History from the Texas State Historical Association.
Rincones has more than 15 years of experience, having taught at South Texas College, Weslaco and Alice independent school districts. She has also presented numerous papers including, "Bridging Cultures in the Community College: LSC-Kingwood NACCS Tejas Foco, and at LSC-North Harris in 2015; and "Tejana Rights: Solidifying Legal Codes in Early Texas" at the Texas State Historical Association meeting in March. Rincones is a member of the Texas State Historical Association.
"I enjoy working with our stellar faculty! Together I feel we make a real difference in our students' lives!"," Rincones stated.
Publications
"Tejana Land Grants: Gender and the Expansion of Empire," Southern Historian, (Spring 2015), Vol. 36.
"The Introduction of Women into Hidalgo County Politics," Journal of South Texas, (Spring 2009).
Email: Cassandra.Rincones@lonestar.edu
Phone: 281.312.1670
Office: APA 109A
Department Chair
Dr. Anthony Carreras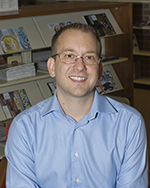 Dr. Anthony Carreras, professor of philosophy, joined LSC-Kingwood in 2012. Dr. Carreras earned a Bachelor of Arts degree from Drew University and a Master of Arts degree from Georgia State University. He earned his Ph.D. in philosophy from Rice University.
Dr. Carreras's work focuses on ancient Greek philosophy and ethics, particularly Aristotle's ethics and the relation between morality and loyalty. He has published papers in such journals as "History of Philosophy Quarterly" and "Philosophical Papers", and has presented papers at the Eastern and Pacific division meetings of the American Philosophical Association. He is a member of the American Philosophical Association and the Society for Ancient Greek Philosophy.
"Philosophy unfortunately tends to have a reputation for being impractical, or in any case, removed from the concerns of everyday life. But what draws me to philosophy is the deep conviction that philosophy is about things that 'matter', Dr. Carreras said. "For instance, it matters whether we have free-will; it matters whether there is some way that human beings ought to live; what justice is 'matters', and it matters whether our form of government is just; it matters whether we are capable of knowing the nature of things. I approach these topics in my classes by conveying and defending that conviction, any by highlighting the philosopher's distinctive method of critical thinking by way of argument analysis."
Dr. Carreras loves bringing philosophy to life in the classroom, and is grateful every day that he gets to do it at LSC-Kingwood. When he is not working, he enjoys spending time with his wife and two amazing daughters.
Recent publications:
2016. "Amicably Deceived." Philosophical Papers 45.1-2: 133-158.
2012. "Aristotle on Other-Selfhood and Reciprocal Shaping." History of Philosophy Quarterly 29.4: 319-336.
2011. "Like Father Like Son? Challenges in the Father-Son Relationship. "In Fatherhood and Philosophy, eds. L. Nease and M. Austin, Wiley-Blackwell, 171-180.
Email: Dr. Anthony Carreras
Phone: 281.312.1763
Office: TIB 209B
Faculty
Thilo M. Schimmel, Ph.D.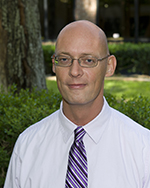 Thilo M. Schimmel, Ph.D., history professor, joined LSC-Kingwood in 2011. He earned a Bachelor of Arts degree in History from Universität Regensburg in Germany and a Master of Arts degree in American Studies from Purdue University. He earned a Ph.D. in History from the University of Illinois.
"History is the most fascinating field of inquiry I have encountered in my life and I hope to pass my enthusiasm about it to my students."
Email: Thilo.W.Schimmel@lonestar.edu
Phone: 281.312.1406
Office: CLA 200F
Web Site
Steve Davis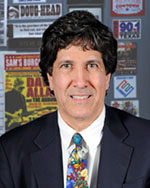 Steve Davis, history professor, is one of the founding faculty members at LSC-Kingwood, having started in the fall of 1984. He earned undergraduate and graduate degrees from the University of Houston. He also worked on his doctoral degree in American history from the same institution. Aside from the standard survey courses in U.S. and Texas history, Davis teaches specialized courses in the Beatles and the British Invasion and the History of Rock and Roll. He has won teaching excellence awards both at the University of Houston and at LSC-Kingwood.
Davis is the main author of the instructor's manual to accompany the 8th edition of America: A Narrative History by Tindall and Shi, which is one of the most adopted college history textbooks in the country. His current project is the co-authorship of a documents reader in U.S. history to be published in 2013 by W.W. Norton.
In his limited spare time, Davis is an avid distance runner who has completed eight marathons and who makes appearances a couple of times per year as rhythm guitarist in a local garage band.
Email: Steve.Davis@lonestar.edu
Phone: 281.312.1645
Office: LIB 214B
Web Site
John Barr, Ph.D.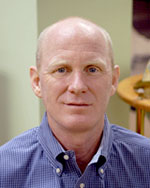 John Barr is a Professor of History at Lone Star College-Kingwood, Texas. Previous to his appointment at Lone Star in 2008, he taught middle school for six years and was a high school history teacher and Cross Country and Track & Field Coach at Kingwood High School for eighteen years. He was named "Teacher of the Year" by the National Honor Society in 2007 and was inducted into the Gulf Coast Track & Field Coaches and Texas Cross Country Coaches Hall of Fame in 2013.
He received his B.A. from the University of Kentucky in 1984, his M.A. from the University of Houston-Clear Lake in 1988, and doctorate from the University of Houston in the fall of 2010.
Barr's dissertation, "The Anti-Lincoln Tradition in American Life," won the 2011 Hay-Nicolay Dissertation Prize. It explored critics of Abraham Lincoln from the 1850s to the present. It is now out in book form with LSU Press and is entitled Loathing Lincoln: An American Tradition from the Civil War to the Present. Loathing Lincoln won the Jules and Frances Landry Award in 2014, an award "presented annually to the LSU Press book published during the year which, in the judgment of the Press, constitutes the most outstanding achievement in the field of southern studies."
Since his arrival at Lone Star – Kingwood, Barr has been named "Innovator of the Year" twice and has been noted as an "Outstanding Teacher" by his peers. He is one of the founders of Lone Star's "Faculty Speaker Series" and their "History Day" Program for local teachers. He teaches the survey of U.S. History courses, "Political Novels," and a class entitled "The Emancipators: Charles Darwin, Abraham Lincoln, and the Making of the Modern World."
He is currently working on a book that examines Abraham Lincoln's life and career through a Darwinian lens.
Reviews of Loathing Lincoln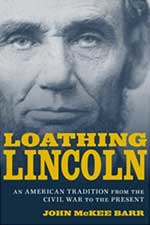 "Along with George Washington, Abraham Lincoln has stood foremost in the minds and hearts of most of his countrymen during the century and a half since Lincoln's death. But as John McKee Barr demonstrates in this revealing study, an undercurrent of anti-Lincoln loathing has always existed, serving political agendas from post-Civil War Confederates to modern neo-Confederates and libertarians who use Lincoln as a whipping boy to promote their own causes. This is an important contribution to the history and memory of the Civil War.''--James M. McPherson, author of Battle Cry of Freedom
''Paradoxically, America's most revered president has also been its most reviled. As John McKee Barr shows in this meticulous, comprehensive survey of the anti-Lincoln tradition, detractors of the Rail-splitter have been a variegated crowd of strange bedfellows: white supremacists, Black Panthers, libertarians, neo-Confederates, agrarian romantics, Southern chauvinists, states rights advocates, and anti-imperialists, among others. Barr describes and analyzes their arguments, demonstrating that many of Lincoln's critics have overlooked (or denied) the Confederacy's central aim: to preserve (as Barr puts it) the right to own, exploit, and rape African Americans and their descendants forever.'' --Michael Burlingame, Chancellor Naomi B. Lynn Distinguished Chair in Lincoln Studies, University of Illinois Springfield
''In Loathing Lincoln, John Barr focuses on the major themes and works in what might be termed the 'anti-Lincoln tradition.' The result is a fascinating excursion through the American political, intellectual, and cultural landscape. With care, balance, and often penetrating insight, the author explores an impressive array of critics from across the political spectrum. The result is a book filled with wonderful examples of anti-Lincoln argument and invective. This is a gem of scholarship that sheds great light on both the past and the present.'' --George C. Rable, Charles Summersell Chair in Southern History, University of Alabama
''The struggle over Lincoln's legacy has therefore never been just about the past, but also about America's future. John McKee Barr's Loathing Lincoln reminds us just how uncertain that future is. For those concerned to preserve Lincoln's vision of a more just, fair, and inclusive America, the struggle to secure his legacy is far from over.''--Claremont Review of Books''John McKee Barr has constructed a detailed, deeply analytical, and persuasively argued narrative. . . . Barr's work fairly summarizes the views of the Lincoln loathers and also devastates them.''--Christian Century
''Barr's thoughtful reassessment of the anti-Lincoln tradition is thorough, tenacious, and timely. Above all, Loathing Lincoln opens a critical window into an increasingly potent and popular dimension of the Lincoln image that Civil War scholars have for too long preferred to keep shuttered.''--Journal of the Civil War Era
''Barr describes this loathing with exhaustive research, meticulous organization, and elegant presentation. . . . [An] excellent analysis of the perceptions of Lincoln covering a span of a century and a half. Historians coming across Lincoln criticism can look to this book to find out how detractors rose up, and why. In Lincoln scholarship, Barr's book is a signal contribution.'' --Journalism History
''The author is refreshingly bold in his assessments of the motivations of the Lincoln loathers, and he turns some beautiful and humorous descriptive phrases. . . . This is a well-written and original book that helps round out any discussion of the legacy of Abraham Lincoln.'' --American Historical Review
Email: John.M.Barr@lonestar.edu
Phone: 281.312.1744
Office: CLA 200J
Web Site
Margret "Peggy" Lambert
Margret "Peggy" Lambert, history professor, joined LSC-Kingwood more than 20 years ago. She earned a Bachelor of Science degree and a Master of Arts degree from the University of Houston.
Lambert has presented an array of papers during her tenure which include: "Create it and They Will Come" before the League for Innovation in 2010; "Fellowship: The Heart of a Chapter" at the Phi Theta Kappa International Convention in 1999; and "Resolving Conflicts" before the Texas Leadership Conference in 1998.
Lambert has garnered numerous awards. She was named a Minnie Piper Stevens Professor and earned The International Phi Theta Kappa: Paragon Award. Additionally, she earned the Horizon Award, the Robert Giles Distinguished Advisor Award and the Margret Mosal Leadership Award, just to name a few.
Lambert served as faculty advisor for Phi Theta Kappa for 17 years and was an advisor for the National Model United Nations. She also served as faculty member for Honors College and presented at the Lone Star College International Education Conference.
"I believe that history is the ideal discipline to enable students to reach their fullest potential: to find out who they are, to discover who they can be and to prepare themselves for their futures."
Email: Peggy.Lambert@lonestar.edu
Phone: 281.312.1480
Office: APA 123C
Web Site
Stephanie Kelly, Ph.D.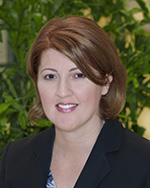 Stephanie Kelly, professor of history, joined LSC-Kingwood faculty in 2013. Kelly earned a Bachelor of Arts degree in Psychology and Sociology from the University of Houston. She received her Ph.D. in U.S.-Latin American relations from the University of Houston where she was a College of Liberal Arts and Social Sciences CORE Fellow.
Kelly currently serves as co-director for the Center for International Studies at Kingwood and is faculty advisor for the National Model United Nations Program. In addition, Dr. Kelly is chair of the Women's History Month Committee and Faculty Senate Vice President for the 2016-2018 term. She has given talks on U.S. foreign policy and women's history at various conferences and is a member of the Rocky Mountain Council for Latin American Studies and the American Historical Association.
"The best part of my job as a professor of history is that I am constantly being challenged to learn and explore new topics from my students and my colleagues. I enjoy the interaction and the opportunity to challenge others in the same way," Kelly stated.
Email: Stephanie.M.Kelly@lonestar.edu
Phone: 281.318.4331
Office: APA 123B
R. Chris Davis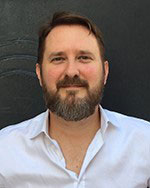 Chris Davis, Ph.D., associate professor of History, joined LSC-Kingwood in 2015. Davis earned a Bachelor of Arts degree in English from the University of St. Thomas in Houston. He also obtained a Master of Arts degree in Cultural Studies from Jagiellonian University in Krakow, Poland and a Ph.D. in Modern History from the University of Oxford. Prior to his graduate studies, Davis served two years in the U.S. Peace Corps in Romania.
Davis has published a number of articles and reviews, focusing on minorities and religion in central and eastern Europe. His book on the contested identities of minorities in twentieth-century Romania and Hungary will be published by the University of Wisconsin Press in 2018. His research and teaching have been supported by grants and fellowships from the U.S. Fulbright Commission, the American Council of Learned Societies, and the International Research & Exchanges Board and others. Davis received an LSC faculty writing award in 2015 and the Innovator of the Year Award in 2017.
Davis currently serves as a book-reviews editor for H-Net (Humanities and Social Sciences Online) and as a board member for both the Society for Romanian Studies and the Humble Museum. In 2016 he was awarded a Chancellors Faculty Technology Innovation Grant to establish the LSC Center for Local & Oral History (CLOH), which he coordinates. Davis is a native of Humble, a Humble High School graduate, and a former LSC-Kingwood student.
Email: R.Chris.Davis@lonestar.edu
Phone: 281.312.1654
Office: LIB 202G
Website
Sandra Zito
Email: Sandra.Zito@lonestar.edu
Office: LIB 202F
Juan Galvan
Email: Juan.GalvanRodriguez@lonestar.edu???????
Office: LIB 206K