Current Students
|
Student Services
|
Testing Centers
|
Assessment Center (Testing)
|
Foreign Language Exams
S-CAPE or F-CAPE Language Exams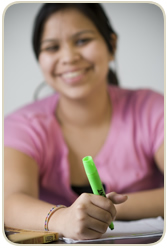 Students must do the following in order to test and get credit for Spanish or French courses:
Students with previous language experience must complete a placement exam prior to enrolling in language courses at Lone Star College–CyFair. Fill out the appropriate Referral Request Form below, and you will soon be contacted with the necessary steps to take in order to be placed into the correct level.

French Placement
Spanish Placement

Students must get approval and a referral form from a Spanish or French faculty member to take the S-CAPE (Spanish exam) or F-CAPE (French exam).
To take the exam, bring the referral form to the Assessment Center located in the CASA building, Room 104.
A photo ID is required for testing. Please allow 30 minutes to complete the exam.
After the test, the Assessment Center proctor will add the test score to the referral form and give it to the student.
The student will need to bring the referral from with the score to the faculty member for score interpretation.
If the test places a student in an upper level Spanish or French class, the student must pass the course with a "C" or better before requesting credit for the lower level courses.
Upon successful completion of the upper level course, the student must request a "Prior Learning Assessment Form" to be completed by the instructor. The instructor will submit the form for approval so that the foreign language credit for the lower level courses will be added to the student's transcript.