Future F-1 Students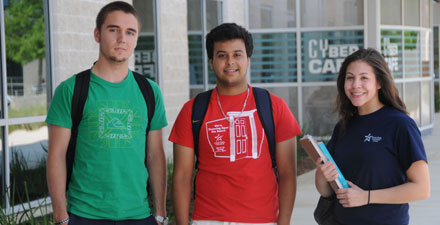 Houston truly is an international city. People from all over the world come here (more than 1.4 million Houstonians—over one in five—are foreign-born) thanks to a robust local economy, taking the lead in industries such as oil and gas, healthcare, technology and education.
Why Lone Star College?
Lone Star College provides the first two years of a university education at a fraction of the cost of a four-year university.
Classes are small with qualified faculty and staff dedicated to making your educational experience a value for your future.
Associate degrees are available in a variety of subjects.
Partnerships between LSCS and four-year universities allow students to transfer seamlessly to earn their bachelor's degrees.
Designated School Officials (DSO)/International Student Advisors are available at each campus to assist F-1 students with admissions, academic planning, immigration status, medical insurance and other advising needs.
Attending Lone Star College
Students outside of the U.S. wishing to study at Lone Star College can apply for an F-1 visa. The terms of this visa require you to be full-time students (minimum of 12 credit hours each semester) and be in good standing with United States Citizenship and Immigration Services (USCIS) while studying in the United States.
Once you have been accepted for admission by one of the Lone Star colleges, your advisor will send you a welcome packet containing a SEVIS I-20 form, which you will use to obtain your F-1 student visa at a local U.S. embassy or consulate.
Prior to interviewing for the student visa, you will be required to pay the SEVIS fee via mail using the I-901 form, Western Union, or by logging on to http://www.fmjfee.com/. You must present your receipt to the U.S. embassy or consulate before being permitted to interview.
This process may vary for different embassies, and can cost several hundred dollars and take weeks or months to process, so plan early.
Application Period
Applicants Outside of the U.S.:
Fall Semester
April 1 - July 1
Spring Semester
September 15 - November 1
Transfer Students:
Fall Semester:
April 1 - August 15
Spring Semester:
September 15 - December 15
Change of Status Applicants:
No less than 60 days from:
Current I-94 Admission Card/Record Expiration Date
21st birthday for dependents on certain visa types