First Year Learning Community Courses
The first year of college can be overwhelming. Is this your first semester in college? If so, First Year Learning Community couses are for you!
What are First Year Learning Communities (FYCs)?

By pairing up our most popular first year courses, LSC-CyFair has created an opportunity for first time in college students to be in two classes with the same group of familiar faces.
Why should you enroll in a FYC?
Take 2 courses with 2 different instructors but the same familiar faces!
New innovative way to build peer relationships;
Increased academic success... BETTER grades!
Build connections and be more comfortable.
What FYC courses are offered for Fall 2015?
Click here for a complete list of Fall 2015 FYCs.
For more information contact
Hollander Thompson
Director, Educational Services and Partnerships
281-290-3516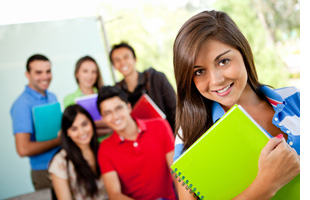 Not a first time college student but think this sounds interesting? Consider applying to be a Peer Leader for First Year Learning Communities. Also check out the Academic Success Center for additional support in your courses!