Endowments, Legacy Circle and Special Gifts of $5,000 or more
---
Endowments
The Lone Star College Foundation is grateful for the many individuals, families, estates, businesses, corporations and foundations that have established endowments. Each endowment listed below provides annual scholarships in perpetuity to students throughout the Lone Star College System.
Administaff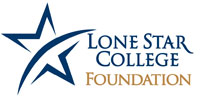 Alvis
Amegy Bank of Texas
American Business Women's Association Greenspoint Chapter
Andrew Wade Heron Memorial
Ann Friend
Ann Glazier McStravick Nursing
Anonymous Endowment
Barbara Benzel Memorial
Bertram Family in Memory of Florence T. Bertram
Beryl A. MacLean
Beta Delta Iota
Bill and Connie Yancey
Bill Lawler Memorial
Bill Stafford Memorial
Bob and Darcy Mingoia
Brandon Michael Schiltz Memorial
Brian Heisler
Brian Ray Olson Memorial
Caldwell Companies
Caldwell Companies in Honor of Dr. Carpenter
Candace Grace Howard Memorial
Canteen Vending
Canyon Gate
Carl and Colene Joiner
Carl's BBQ
Carol Bary Memorial
Charlotte and David G. Lampe
Christal M. Albrecht Endowment
Clarence Kruger Memorial
CLR, Inc.
Computer Science and Computer Information
Conroe New Car and Truck Dealers
Conroe Regional Medical Center and Auxiliary
Cook/Covington Memorial
Copperfield Church
Copperfield Women's Club
Corrpro Corrosion Protection Scholarship
Cy-Fair Express Network of American Business Women's Association
Cy-Fair Federal Credit Union
Cy-Fair Houston Chamber of Commerce
Cypress Fairbanks Medical Center
Cypress Fairbanks Rotary Club
Cypress Woodlands Junior Forum Scholarship
Darcy and Robert Mingoia
Dave and Jacque Feldman
David and Pamela Dickson
Diane K. Blanco
Donna McVeigh Memorial
Dr. Bill Law Jr.
Dr. Bob Williams
Dr. Cher Brock
Dr. Diane K. Troyer
Dr. Graciella G. Blanco
Dr. Joe A. Airola
Dr. Joe McMillian
Dr. John E. Pickelman
Dr. Linda Stegall Excellence in Education Scholarship
Dr. Nockie Zizelmann
Dr. Sanford Shugart
Earl Campa Endowment
Easton Commons Commercial Association, Inc.
Elizabeth "Beth" Boyd Memorial Nursing
Elmer L. and Dorothy M. Beckendorf
Empower U Endowment
Entergy
ESL Student Scholarship
Estelle R. Cameron Memorial
Evelyn F. and Eugene F. Whitehorne
Exchange Club of FM 1960
Fiesta Mart, Inc.
First Community Credit Union
Fox and Bubela, Inc
Fred Dornak Scholarship
Fred Fincher Sr. Memorial
Friends of LSC-Kingwood
Future Pipe Industries, Inc.
Gensler
George W. Butler Memorial
Gilbane Building Company
Glenn Family
Greater Texas Foundation Student Success Scholarships
Gwen Hruska
Hayden Taylor PTA
Hauke
Henry and Billie Brooks
Honora and Porfirio Diaz
Houston Golf Association
Houston Livestock Show and Rodeo
Houston Northwest Chamber of Commerce Foundation Thomas Hetherington Scholarship
Houston Northwest Medical Center
Hulon and Marion Madeley
Humble Police Association - Petrochem Field Services
Humble Police Association
Humble Police Association-Callaway's Collision
Humble Police Association-Carley Summer McNutt
Humble Police Association-D&D Collision
Humble Police Association-David Niccum
Humble Police Association-Gary and Daniel Lee
Humble Police Association-Leo Medley Memorial
Humble Police Association-Mr. and Mrs. Tim Gill
Humble Police Assoication-Petrochem Field Services
In Honor of Nancy F. Caldwell
In Honor of Randy Bates and Tom Forestier
InvestTex
J. Anthony Walter, M.D.
Jack and Lynn Fields
Jacque D. Holman
James Buchinger, Lindsey Lamkin and G. T. Thompson Memorial
James R. D. Lewis Jr.
Jean Whileyman
Jerry Albrecht
Jim and Nelda Blair
Joe B. Anders Jr. Memorial Endowment
John A. and Annice B. Nanninga
John Haskins
John J. Collins Technology
John P. Hughes Memorial
John R. Zizelmann Memorial
John Wiesner
Joiner Architects
Judy Taylor
Junior League North Harris South Montgomery County
Karen and Waylan West
Ken and Melba Graham Nursing Endowment in Honor of Kathleen Graham Semmler
Kenny and Mattie McCowen Endowment
Kingwood Area Emergency Medical Services Association
Kingwood College 20th Anniversary
Kingwood College Golf Tournament
Kingwood Medical Center Auxiliary
Klein Bank and Trust
Land Surveying and Mapping Technology
Linda and Donnie Humphries Family
LSC-CyFair Biology Faculty
LSC-CyFair Faculty Senate Endowment for Robert McGehee
LSC-CyFair Faculty Senate
LSC-CyFair Friends of the Library
LSC-CyFair President's Endowment
LSC-CyFair Professional and Support Staff Association
LSC-CyFair Science Olympiad
LSC-Kingwood Continuing Education Administration
LSC-Kingwood Dental Hygiene
LSC-Kingwood Employee and Community
LSC-Kingwood President's Endowment
LSC-Montgomery Biology Faculty Endowment
LSC-Montgomery Healthier U
LSC-Montgomery President's Endowment
LSC-North Harris President's Endowment
LSC-Tomball Mathematics Excellence
LSC-Tomball Mathematics Faculty
LSC-Tomball President's Endowment
LSC-University Park President's Endowment
Major John and Niki Myers Fund
Marjorie H. Shifferd
Mark and Christine Scully
Mary Anne Grasso Foundation Endowment
Mathematics Department at LSC-Tomball
Melissa Trotter Memorial
Memorial Hermann The Woodlands Hospital
Methodist Willowbrook Hospital
Mingoia Family
Montgomery & Associates
Montgomery College 10th Anniversary Legacy
NCI Building Systems
NewQuest Properties
Nitin Bezbaruah Sarangapani
Noble Energy, Inc.
North Harris County Branch of American Association of University Women
Nursing Program
Office of Workforce Development
OTS Friends and Family
OTS Women in Technology
Patricia Harless
PBK Architects, Inc.
Pearl Fincher
Pepsi Cola
Performing Fine Arts Scholarship
Precision Task Group
Qwock Lem and Kim Yoke Lau
R.M. Machell Family
Representative Kevin Bailey Scholarship
Research Forest Science and Engineering Library
Rhonda Harwell Nursing
Robert H. and Dorothy A. McCallister Nursing Scholarship
Robert J. Adam Family
Rosemary A. Freda
Rosemary M. and Ambrose J. Eisterhold
Rotary Club of Conroe
Rotary Club of Humble Intercontinental - In Recognition of Dr. and Mrs. Gene Caldcleugh
Rotary Club of Humble Intercontinental
Rotary Club of The Woodlands
Ryan Paul Whitaker Memorial Nursing
Schulte Building Systems
Selma Lilley Memorial
Seth and Dianne Sharr
Shirley Acres
SHW Group LLC Endowment
Society of Petroleum Engineers/Gulf Coast Section
South Montgomery County Lions Club
Splitrock
St. Aidan's Church
Stan and Suzanne St. Pierre
Sterling Bank
Stone Gate
Susan and Jeff Edwards
Susan J. Caldwell Endowment for the Arts
TechKnowledge Consulting
Texas Pioneer
Texas Process Equipment
The Feldman Family
The Feldman Family in Memory of Krysta Rodriguez
The Foreman Family
The H.E.B Scholarships for LSC-Victory Center
The John Anthony Farinacci Memorial Scholarship
The Kathryn Ann McCallister Memorial Nursing Scholarship
The Kelsey Vogel "Shining Star" Memorial Scholarship
The Marion D. Hanson Nursing Scholarship
The Paul and Debbie Blackshear Family
The Robert E. and Marion D. Hanson Veterinary Technology Scholarship
The Short Cource Endowed Scholarship of Land Surveying
The Student Success Scholarship Endowment
The Taylor Rodriguez Collins Path to Success Scholarship
The Thomas R. and Kathryn C. Polk Scholarship
The Woodlands Development Company
The Woodlands Living Arts Council
The Woodlands Waterway Marriott Hotel
Thelma Jones
Tiffani Stanley Memorial
Tom Stallings Memorial
Tomball Regional Arts Council
Tomball Regional Medical Center
Tomball Rotary Club
Wells Fargo
Wilda June Glover
William A. Brookshire Foundation
William D. Law Sr. Memorial
William Patrick Sellers Memorial
William J. and Olive H. Upton
Woodforest National Bank
---
Legacy Circle
These generous individuals, families, estates, and foundations have committed to providing financial support to the students and programs of the Lone Star College System as part of their estate and financial planning.
Dr. Cher Brock
Thomas E. and Patricia L. Chandler
Sarah Dudney
Wendy Evans
Otice and Mary Parker
Kathleen White Prather
Patricia Kay Rogers
Paula H. Whitaker and Ryan Whitaker Memorial Foundation
---
Special Gifts of $5,000 or more
The LSC Foundation is grateful for contributions designated for special scholarships, academic programs and campus support.