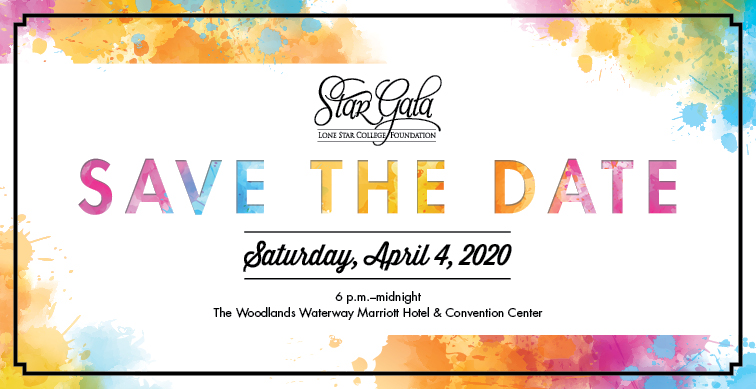 StarGala promises an elegant evening of dinner, dancing, cocktails, entertainment, live and silent auctions.
Proceeds support students' dreams of a college education.
Click HERE to register and pay online.
Click HERE to complete a commitment form and be invoiced.
For questions, please email the Foundation Office or contact Susan Summers at 832.813.6592.
SPONSORSHIP OPPORTUNITIES
PINNACLE $100,000
On-stage acknowledgment

Invitation for 20 to VIP Reception

Premier dinner seating for 20

Private waiter and reserve wine

Full-page program advertisement on inside front cover

Media release feature story and photo opportunity

Logo recognition on website, e-blasts and event screen

Fund a named endowment for four new scholarships or proceeds added to an existing endowment.
LEGACY $50,000
Invitation for 20 to VIP Reception

Two premier tables for ten

Full-page program advertisement on inside back cover

Recognition in media release

Logo recognition on website, e-blasts and event screen

Fund a named endowment for two new scholarships or proceeds added to an exisitng endowment
VISIONARY $25,000 SOLD
Invitation for 10 to VIP Reception

Premier table for ten

Full-page program advertisement

Recognition in media release

Logo recognition on website, e-blasts and event screen

Fund a named endowment for one new scholarship or proceeds added to an existing endowment
CHAMPION $15,000
Invitation for ten to VIP Reception

Prominent table for ten

Half-page program advertisement

Recognition in media release

Logo recognition on website, e-blasts and event screen
DREAM MAKER $10,000
Invitation for ten to VIP Reception

Preferred table for ten

Quarter-page program advertisement

Recognition in media release

Logo recognition on website, e-blasts and event screen
SILVER STAR $5,000
Invitation for ten to VIP Reception

Reserved table for ten

Eighth-page program advertisement

Listing on website, e-blasts and event screen
BRONZE STAR $2,500
Reserved seating for four

Logo advertisement in program

Listing on website, e-blasts and event screen
VIP SEATING $1,500
Reserved seating for two

Listing in program

UNDERWRITING OPPORTUNITIES
DÉCOR $5,000
Two reserved seats + invitation for two to VIP Reception

Logo recognition on signage

One-quarter page program advertisement

Listing on website, e-blasts and event screen
ENTERTAINMENT $5,000
Two reserved seats + invitation for two to VIP Reception

Logo recognition on stage signage

One-quarter page program advertisement

Listing on website, e-blasts and event screen
FLORAL $5,000
Two reserved seats + invitation for two to VIP Reception

Logo recognition on tablescapes

One-quarter page program advertisement

Listing on website, e-blasts and event screen
INVITATIONS $5,000
Two reserved seats + invitation for two to VIP Reception

Logo recognition on invitations mailed to 2,500

One-quarter page program advertisement

Listing on website, e-blasts and event screen
SIGNATURE DRINK $5,000
Two reserved seats + invitation for two to VIP Reception

Logo recognition on special beverage glasses

One-quarter page program advertisement

Listing on website, e-blasts and event screen
VALET $5,000
Two reserved seats + invitation for two to VIP Reception

Marketing materials placed in all valet parked vehicles

One-quarter page program advertisement

Listing on website, e-blasts and event screen
VIP RECEPTION $5,000
Two reserved seats + invitation for two to VIP Reception

Logo recognition on reception signage

Logo recognition on VIP Reception invitation

One-quarter page program advertisement

Listing on website, e-blasts and event screen
PROGRAMS $3,000
Two reserved seats + invitation for two to VIP Reception

Logo recognition on back cover of program

One-eighth program advertisement

Listing on website, e-blasts and event screen
WINE $3,000
Two reserved seats + invitation for two to VIP Reception

Logo recognition on wine bottle tags at major sponsor tables

One-eighth page program advertisement

Listing on website, e-blasts and event screen
SIGNAGE $2,500 - SOLD
Two reserved seats + invitation for two to VIP Reception

One-eighth program advertisement

Listing on website, e-blasts and event screen