LSC-North Harris Graduation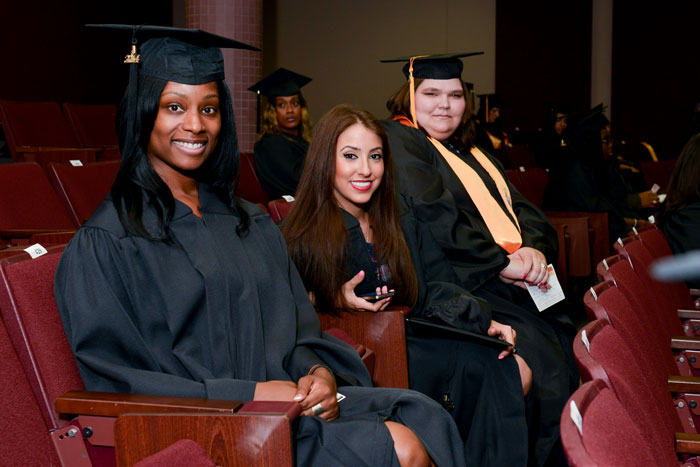 At the end of each semester, Lone Star College awards diplomas to students who complete their degree/certificate requirements. We encourage all students to apply for graduation whether your goal is to transfer or to complete one of our academic programs.
LSC-North Harris Commencement Ceremony

Friday, May 8, 2015 at 7 p.m. (graduates must arrive and check-in 5 - 6 p.m.)
M.O. Campbell Educational Center
1865 Aldine Bender Rd.
Houston, TX 77032
---
Documents:
Graduation emails coming soon! Please make sure to check your myLoneStar email for information regarding graduation.
All graduation applications must be submitted by April 10, 2015 for your name to appear in the Commencement program book.
The Graduate Seat Reservation Form (sent to your myLoneStar email) must be completed by April 27, 2015 to confirm you participation at Commencement.
Graduation Map (.pdf)
Participation Guidelines (.pdf)
Graduate Seat Reservation Form
*Deadline to submit the Graduate Seat Reservation Form is Monday, April 27, 2015 at 4:30 p.m.
---
Live Web-streaming

View the 2015 Graduation Ceremony
Link will be active the day of Commencement.
---
Graduation Orientation 2015

Graduates are invited to attend the orientation to receive information about the upcoming commencement ceremony. Attendance is NOT mandatory, but strongly encouraged.

Orientations will be held at Lone Star College-Norht Harris Student Service Building - Conference Room 208:
Wednesday,  April 29, 2015, 12:30-2:00 p.m.
and
Wednesday, April 29, 2015, 6:00-7:30 p.m. 
Information about the Graduation Orientation and the 2015 Commencement ceremony was emailed to graduates to their myLoneStar email. If you did not receive one, please contact the Admissions Office. Please make sure to fill out the
Graduation Attendance Online form
 if you plan on participating in the ceremony.
---
General Information

Cap & Gown
Regalia may be purchased at the Lone Star College-North Harris Bookstore until Friday, May 8, 2015 before 2 p.m. However, sizes may be limited, so graduates are encouraged to purchase regalia early. The cost  of the cap and gown is $38.00 plus tax. Contact the bookstore at 281.618.5699 for additional information. Only Phi Theta Kappa and designated Honors' students will be allowed to wear stoles at the ceremony. No other stoles will be allowed.
Invitations
For your convenience, commencement invitations may also be purchased at the bookstore. You may also choose to use other outside vendors for your commencement invitations.
Photography
FLASH Photography will be photographing each graduate during the commencement ceremony. Complimentary proofs will be mailed to the graduates within one week of the ceremony. If you have any questions, please contact Flash Photography via their website.
Phi Theta Kappa Stoles
Graduates who are members of Phi Theta Kappa may access http://recognitions.ptk.org/ to order graduation regalia and will need membership ID number. Please note that only stoles and tassels are permitted at the commencement ceremony. Enhanced members may wear their honor cords presented to them by the advisors. For additional Phi Theta Kappa information or questions, please contact one of the LSC-North Harris Phi Theta Kappa advisors, Laura Dupree at 281-765-7737 or Lynda Dodgen at 281-618-5536.
Dress
Participants and guests should dress comfortable and cool. Men are encouraged to wear dark slacks, light colored shirts and dark shoes and socks. Women are encouraged to wear cool, knee-length dresses and low heel dark shoes.
Proper Regalia
Lone Star College graduates are expected to wear regalia without altering the appearance. Academic regalia has a rich history of tradition and significance we wish to honor. Please, no flowers (corsages), pins, stoles, or alterations to mortarboards. Graduates who have earned stoles through academic achievement, Honor's program or Phi Theta Kappa will wear the college approved stoles. All others are asked to respect the time-honored traditions of graduation by wearing regalia as issued. In addition, the appropriate way to wear the mortarboard is flat on top of the head and not off to the side or fixed to the back of the head by pins.
Purses/Handbags
Graduates will not be allowed to bring any purses or handbags into the commencement ceremony. Therefore, it recommended that students leave their valuable with family members to be collected after the ceremony. LSC-North Harris and M.O. Campbell Educational Center will not be held responsible for lost, stolen, or misplaced items.
Diploma
All commencement participants will receive a commemorative diploma cover during the ceremony. Diplomas will be mailed from the System office after requirements are certified. Mailings will occur mid-June for May graduates and mid-September for summer graduates.
Directions
From I-45, take Beltway 8 East, exit 60B. Merge onto Beltway 8 East and continue to the Aldine Westfield exit. Turn right onto Aldine Westfield Road. Turn right onto Aldine Bender Road. The M.O. Campbell Education Center is located on the Right at 1865 Aldine Bender Rd.
From US-59, take Beltway 8 West exit. Merge onto Beltway 8 West and continue to the Aldine Westfield exit. Turn left onto Aldine Westfield Road. Turn right onto Aldine Bender Road. The M.O. Campbell Education Center is located on the right at 1865 Aldine Bender Road.
Logistics
Graduates are expected to arrive between 5:00 and 6 p.m. to the areas listed below.
Graduates who do not attend orientation must pick up a required seating card by 5:00 p.m. in the following areas:
Graduates with the last name beginning with A-L will report to room 104 on the 1st floor at the west entrance of the M.O. Cambell Center.
Graduates with the last name beginning with M-Z will report to room 158 on the 1st floor at the east entrance of the M.O. Cambell Center.
Please note that graduates arriving at the ceremony later than requested may not be eligible to walk in the ceremony.
Guests
There is no limitation to the number of guests that may be invited. Doors will open to the public at 6:00 p.m. Everyone is required to walk through a metal detector prior to entering the facility on graduation day. Objects such as pocket knives, excessive noise makers, and balloons, will not be allowed and may be confiscated by security.
Questions
Contact Gina Espitia at 281.765.7863 or Gina.E.Espitia@lonestar.edu
or
contact Beverly Theiss at 281.618.5419 or Beverly.S.Theiss@lonestar.edu