LSC-Greenspoint Center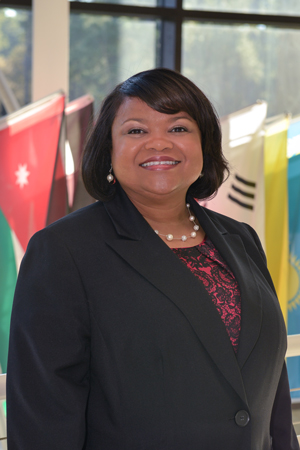 Lone Star College-North Harris has recently named Dr. Valschkia Dabney as vice president of centers at Lone Star College-North Harris. Dr. Dabney oversees faculty, staff and student success initiatives, as well as all operations at the LSC-Greenspoint and LSC-Victory Centers.
Read more about LSC-North Harris Vice President of Centers, Dr. Valschkia Dabney.
---
Lone Star College-Greenspoint Center is a state-of-the-art, full-service satellite center of Lone Star College-North Harris designed to serve the greater Greenspoint area. It is located on a convenient Metro route 86 near I-45, south of the Beltway on the feeder, just east of Greenspoint Drive. The facility is a three-story building with a two-story annex that offers a variety of educational services to the community.
Mission Statement
Our mission at Lone Star College-Greenspoint Center is to serve the needs of a diverse community by offering expanding opportunities for educational growth, career and workforce development and life-long learning.
Offerings at LSC-Greenspoint Center
We offer a selection of day, evening, and weekend credit courses in 28 fields, including university-transfer courses, certificates, computer/office skills, and developmental studies.
Services include college admissions, college placement testing, free tutoring, academic and career advising, financial aid assistance, an extended learning center, library services, full service bookstore, café, and adult basic education and literacy courses.
Getting Started
Need help locating our facility, look below.
Join the LSC-Greenspoint Center Text Message List
Contacts & Services
Main Phone: 281.260.3501
250 N. Sam Houston Prkwy E
Houston, TX 77060-2009
Vice President
LSC-Greenspoint &
LSC-Victory Centers
Dr. Valschkia L. Dabney
Valschkia.L.Dabney@lonestar.edu
281.260.3122
GSPT-200K
Dean of Instruction
LSC-Greenspoint &
LSC-Victory Centers
Kelly Jacobs
Kelly.O.Jacobs@LoneStar.edu
281.260.3114
Assistant Dean,
Student Services
Sheldon Moss
Sheldon.G.Moss@LoneStar.edu
281.260.3143
GSPT-109G
GED/ESL
(Adult Education)
Gregoria Guerrero-Cardenas
Gregoria.Guerrero-Cardenas@LoneStar.edu
281.260.3570
GSPT-112
Learning Center
Shawne' Wilson
Shawne.Wilson@LoneStar.edu
281.260.3516
GSPT-100F
Testing Center
Roxanne Weaver
281.260.3171
GSPT-100C
Financial Aid Call Center
281.290.2700
GSPT-109
Bookstore
281.260.3153
GSPT-108
Help Desk (OTS)
832.813.6600
Police Dispatch
832.813.6800
GSPT-100A