Guadalajara, Mexico
Join us for our fourth summer in beautiful Guadalajara! Last year, 34 students participated.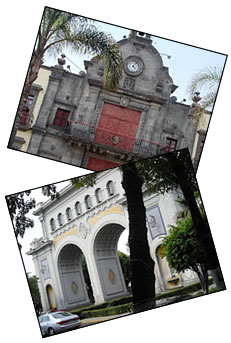 College Credit / Leisure
Community college, university and early admission high school students may apply. Earn college credit for SPAN 1411, SPAN 1412, ENGL 1302, or ENGL 2342. These credits apply towards your associate degree and are transferable to higher education institutions. Adult leisure travelers are also welcome.

Travel Benefits
You will live with a friendly Mexican host family carefully selected by our partner university, Universidad Autónoma de Guadalajara (UAG); enjoy home-cooked meals, shared room and bathroom. Housing is a short bus ride or walking distance from campus. Note: Expect to walk reasonable distances and climb stairs.
Eat breakfast with the family; arrive on campus at 9AM; formal classes end at 12:40 p.m. Eat dinner with the family at 3PM. Enjoy guided tours in the afternoons and weekends in Guadalajara and nearby historic towns, Tonalá, and Tlaquepaque, and a 3 night stay in México City at a comfortable hotel close to attractions.

Check out these programs:
English Literature & Culture - Faculty Sponsor: Dr. David Zimmermann
Spanish Language & Culture - Faculty Sponsor: Norseman Hernandez
At A Glance
Location
Guadalajara and México City - you will be studying at the Universidad Autónoma de Guadalajara (UAG), Centro Internacional de Idiomas for 14 days. On June 24th, we travel by to México City for a 3 day tour of historical sites before returning to Houston.

Travel Dates
Depart on Thursday, June 11 and return on Sunday, June 28, 2009.

Passport
A valid passport is required.
Program Costs
Program Cost of $1,695 includes the following:
Roundtrip airfare via Continental Airlines Group Travel: Houston Intercontinental Airport (IAH) to Guadalajara/Mexico City to IAH
Bus transportation to/from airports in Mexico & tours
Placement exam; Spanish classes (Levels 1-7) taught by UAG Centro de Idiomas professors (Spanish Immersion) or Cultural lectures (English Literature)
Home-stay (14 nights) with Mexican family and at least 2 meals daily, shared bedroom/bath
Guided tours, entrance fees: Centro Histórico (2), Zapópan, Tequila, Tlaquepaque, & Tonalá
Latin dance lessons (2) with UAG dance instructor
Chartered bus from Guadalajara to México City, 3 nights hotel (double room), breakfast, one dinner, guided tours with entrance fees: National Palace, Templo Mayor, Metropolitan Cathedral, Chapultepec Castle, Our Lady of Guadalupe Shrine, Aztec city of Tenochtitlán
Note: itinerary and prices subject to change without notice in the event that we are subjected to cost increases.

Refund Policies
March 13 - All payments less $100 deposit for Continental Group Works
May 7 - All payments less cost of airline ticket
June 11 - All Program Cost payments less airline ticket and $100
No refunds after June 11
Key Dates
November 17 - LSC Study Abroad Scholarship application deadline
Jan 16 - $200 deposit to reserve place in program
March 1 -payment of $747.50
April 1 - payment of $747.50 with completed forms, copy of passport
April 15 - UAG receives admission and housing preference forms
May 7 - Passenger names confirmed with Continental Airlines
May 7 - mandatory orientation
June 2 - UAG assigns home-stay family contact, address, phone number
June 2 - start date for ENGL 1302 41105 and ENGL 2342 41101
June 8 - start date for SPAN 1411 and SPAN 1412 41401
Other Costs
Other expenses not covered above: LSC-Montgomery tuition (Study Abroad only), Spanish workbook ($15), Mexican cooking class (optional), laundry, restaurant meals, snacks, city bus fare ($.30), personal items, museum camera usage fee ($3), Tapatio double-decker city bus tour ($5).
Note: Participants will have photo ID taken for access to campus facilities: computer labs, library, swimming pool, gym; ID permits entrance to museums and sites at no charge.

Financial Aid
Lone Star College has needs-based scholarships for Study Abroad that may cover up to 75% of the cost. If you have not already applied for financial aid, go to http://www.fafsa.ed.gov.

Application Application
Apply online and pay the $200 deposit. Obtain an application packet in-person or by mail. The packet includes Lone Star College and Universidad Autónoma de Guadalajara required travel forms. Tentative admission is granted upon receipt of completed forms. You will be notified of admission to program in writing.

Credit Courses
ENGL 1302 41105 Composition & Rhetoric (3 credits)
ENGL 2342 41101 Forms of Literature I (3 credits)
SPAN 1411 41401 Beginning Spanish I (4 credits)
SPAN 1412 41401 Beginning Spanish II (4 credits)
Attendance at credit classes at LSC-Montgomery one week prior and one week after trip is required. You must also be in México for the entire program. No exceptions!! Check the summer schedule for days and times.

Group Activities
All Spanish Immersion and English Literature participants must attend scheduled activities:
May 7th orientation
Summer Session credit classes one week prior to departure and one week upon return
Orientation, UAG campus tour, placement exam in México
UAG campus classes, Monday to Friday, 9AM-12:40PM
Guadalajara and México City tours
Travel Abroad Tips
Studying abroad can be a fun and safe experience but it is important to realize that you are subject to the laws and customs of another country. Here are some tips prepared by the U.S. Department of State Office of Overseas Services to help keep you prepared and safe.
Although most trips abroad are trouble free, being prepared will go a long way to avoiding the possibility of serious trouble.
Become familiar with the basic laws and customs of the country you plan to visit before you travel.
Remember: Reckless behavior while in another country can do more than ruin your vacation; it can land you in a foreign jail or worse! To have a safe trip, avoid risky behavior and plan ahead.
All participants must comply with the policies of Lone Star College, Universidad Autónoma de Guadalajara, and Mexican laws. For more information, go to http://travel.state.gov/travel/cis_pa_tw/cis_pa_tw_1168.html.
Universidad Autónoma de Guadalajara (UAG)
UAG, founded in 1935, is a private university enrolling 16,000 undergraduate and graduate students each year from Mexico (85%) and other countries (15%). Lone Star College has a signed agreement with Universidad Autónoma de Guadalajara to provide mutually beneficial educational programs. The program, including scheduled classes, home-stay and tours, is coordinated by the Departamento Intercambio Universitario. Spanish classes are taught by the Centro de Idiomas professors. Participants adhere to the policies of both institutions at all times during the program in Mexico.
Transcripting process
Your credit will be posted to your Lone Star College academic record soon after the program ends.
Exchange Rates
To see a daily exchange rate of the U.S. Dollar to Mexican Peso, go to: http://finance.yahoo.com/currency?u

Local Tours
Centro Histórico in Guadalajara: We take a walking tour of the main cathedral and see fascinating people meander through the Plaza de Armas. Across the street is the Government Palace where Jose Clemente Orozco's murals line the chamber walls and ceiling. Shop in the huge Libertad Market, also known as San Juan de Dios. See a variety of arts and crafts stalls with ceramics, crystals, leather and silver goods from all over the country.
On another weekday afternoon, we return to Centro Histórico see the Regional Museum of Guadalajara and its paleontology collection with fossils of great historical value such as the "Mammoth of Catarina". We then tour the Hospicio Cabañas to see the great murals of Jóse Clemente Orozco.
Zapópan: We take a 15-minute bus ride to Zapópan (Founded in 1540), and find out why it is one of the most famous pilgrimage centers of México. See the Basílica de Zapópan and the beautiful main plaza, open market, shops with handmade colorful cotton dresses, and Museo Huichol Wixarica de Zapópan.
Tlaquepaque and Tonolá: Guadalajara and the surrounding Tlaquepaque and Tonolá most likely have the highest concentration of craftsmen in the world. This is where most of the hand crafted items that boast the "Hecho en México" label are produced. There are shops that make, or are able to make, almost anything.
We arrive in Tlaquepaque just when the shops are opening. Stroll and shop at a leisurely pace. Specialty shops are everywhere. Over three hundred quaint shops will make your shopping experience, in this traffic free environment, a real pleasure. This seemingly small town offers some great bargains and an incredible variety of items in just about anything in the way of quality handmade goods, from fine crystal to furniture, and almost everything in between. Mingle with the craftsmen, listen to Mariachis in the famous Parian and enjoy lunch at one of the stands in the market.
A few minutes from Tlaquepaque and a bit smaller, Tonalá is also village of craftsmen. Much of the ceramics, pottery and some of the finest dinnerware sold all over México, is made by the estimated six thousand artisans living in Tonalá. Although not a glitzy as Tlaquepaque, this is more a city of factories than stores but most are open and sell to the public. Our 1 hour tour takes us to a glassblowing and pottery factory.
Tequila: Enjoy a 45 minute bus ride to Tequila, a town made framed by blue agave fields. Within the landscape are working distilleries reflecting the growth in the international consumption of tequila in the 19th and 20th centuries. We visit a tequila factory and learn how the "piña" (literally pineapple) or heart of the agave plant is harvested and processed into tequila.
México City: We travel eight hours by coach to México City, arriving at the hotel, which is very close to Avenida Reforma. For more information on each of these tours to the main square, or Zócalo, to see the National Palace, Great Temple, Metropolitan Cathedral, and to Chapultepec Castle, Museum of Anthropology, Lady of Guadalupe & Teotihuacán, check the links below.