Hurricane Harvey Relief Assistance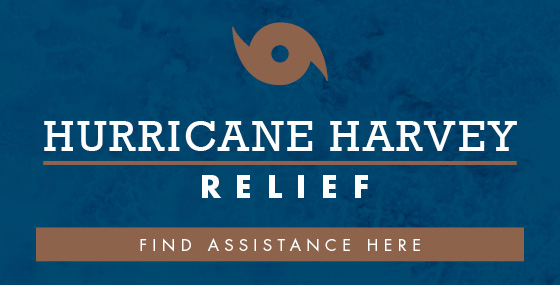 Assistance for Houston Residents
Strada Education Network, Mayor Sylvester Turner, and the City's Office of Education awarded a grant, administered through the Greater Houston Community Foundation, to support Lone Star College students adversely impacted by Hurricane Harvey.
Applicants MUST be officially enrolled at Lone Star College for Spring 2018 and reside within Houston city limits.
Federal & State Resources
Students or employees with damage to their homes or in need of shelter, food, or other social services can utilize the information below.
Employees or students in need of FEMA assistance can register at the above link. FEMA encourages all individuals to have the following information ready upon registration:
Social Security Number
Insurance Information
A Contact Number
Direct Deposit Information for Electronic Funds
The Texas Workforce Commission (TWC) announced the deadline has been extended to October 31, 2017 for individuals filing for Disaster Unemployment Assistance in all 39 counties declared in Presidential Disaster Declaration FEMA 4332-DR. This deadline extension will allow affected individuals, who may be eligible but have not yet applied, with additional time to apply for disaster unemployment assistance.
TWC is accepting applications for Disaster Unemployment Assistance (DUA) from individuals whose employment or self-employment was impacted by Hurricane Harvey. Applications from individuals who live in, work in, or travel through these counties must be submitted by October 31, 2017. TWC's website contains more information about Disaster Unemployment Assistance.
The following counties are included in the disaster declaration and amendments: Aransas, Austin County, Bastrop, Bee, Brazoria, Calhoun, Chambers, Colorado, DeWitt, Fayette, Fort Bend, Galveston, Goliad, Gonzales, Hardin, Harris, Jackson, Jasper, Jefferson, Karnes, Kleberg, Lavaca, Lee, Liberty, Matagorda, Montgomery, Newton, Nueces, Orange, Polk, Refugio, Sabine, San Jacinto, San Patricio, Tyler, Victoria, Waller, Walker, and Wharton Counties
Agency
Phone
FEMA
–
211 Texas
Call 2-1-1 for information and resources related to the recent flooding. United Way's trained HELPLINE specialists are answering calls 24/7 to provide information and referrals to storm-related resources drawn from a comprehensive database of social services.
2-1-1
Red Cross
1-800-Red Cross
Legal Services (Lone Star Legal Aid)
(800) 504-7030
Harris County Resources
Montgomery County Resources
Waller County
Agency
Phone
Waller County Harvey Information
Residents of Waller County that suffered damage to their homes or businesses are encouraged to complete the damage survey within this site
1-800-901-4412
Make A Donation
The Lone Star College Foundation has created a fund to assist student and full-time employee flood victims.