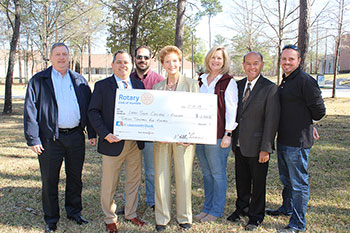 The Humble Rotary Club continues to assist area businesses affected by Hurricane Harvey.
Through its Harvey Relief Fund, the organization recently donated $12,500 to Lone Star College-Kingwood. The money will go toward an obelisk that will commemorate the college's battle against the San Jacinto River. It will be located in the center of campus.
"The college is one of the largest employers in our community, and we wanted to make sure that their needs, not covered by insurance, are met," said Pam McNair, Humble Rotary member and co-chair of the Harvey Relief Fund.
The engineering and art departments at LSC-Kingwood designed the 12-foot obelisk. It will be made of Texas stone and stainless steel. When visitors approach the monument, they will see their reflections and a sensor will activate nature sounds and music composed by LSC-Kingwood music students.
"The obelisk will serve as a quiet and reflective place for students and employees. It will be a testament to the challenges faced against the hurricane and how we overcame them to be 'better than ever,'" said Dr. Katherine Persson, LSC-Kingwood president.
The Humble Rotary created the Harvey Relief Fund through partnerships with the Lake Houston Economic Development and the Rotary Clubs of Steamboat Springs (Colorado) and Boulder City (Nevada), and the Rotary District 5300 Foundation (California). In 2018, the Humble Rotary gave $88,000 to various small businesses in the community and will give $52,500 to other area small businesses in 2019.
"We got involved because we did not want to see area businesses fall through the cracks. Our goal was to help our community thrive after the storm," said Chris Elliott, Humble Rotary member and co-chair of the Harvey Relief Fund.
LSC-Kingwood's goal is to erect the obelisk in time for its reopening ribbon cutting and celebration on Feb. 15 at 9 a.m. in the Administration and Performing Arts Center. For more information on the campus, visit www.lonestar.edu/kingwood. For more information on the Humble Rotary Club, visit https://humblerotary.com/.
Register now for credit classes online through myLoneStar. Classes are offered days, evenings, or weekends in traditional, online and hybrid formats. For more information or to register online, visit www.lonestar.edu/registration. For general information about Lone Star College-Kingwood, call 281.312.1600 or visit http://lonestar.edu/kingwood.
Lone Star College offers high-quality, low-cost academic transfer and career training education to 99,000 students each semester. LSC is training tomorrow's workforce today and redefining the community college experience to support student success. Stephen C. Head, Ph.D., serves as chancellor of LSC, the largest institution of higher education in the Houston area with an annual economic impact of nearly $3 billion. LSC consists of six colleges, eight centers, two university centers, Lone Star Corporate College and LSC-Online. To learn more, visit LoneStar.edu.
###