LSC-North Harris Industrial Diesel Technology Department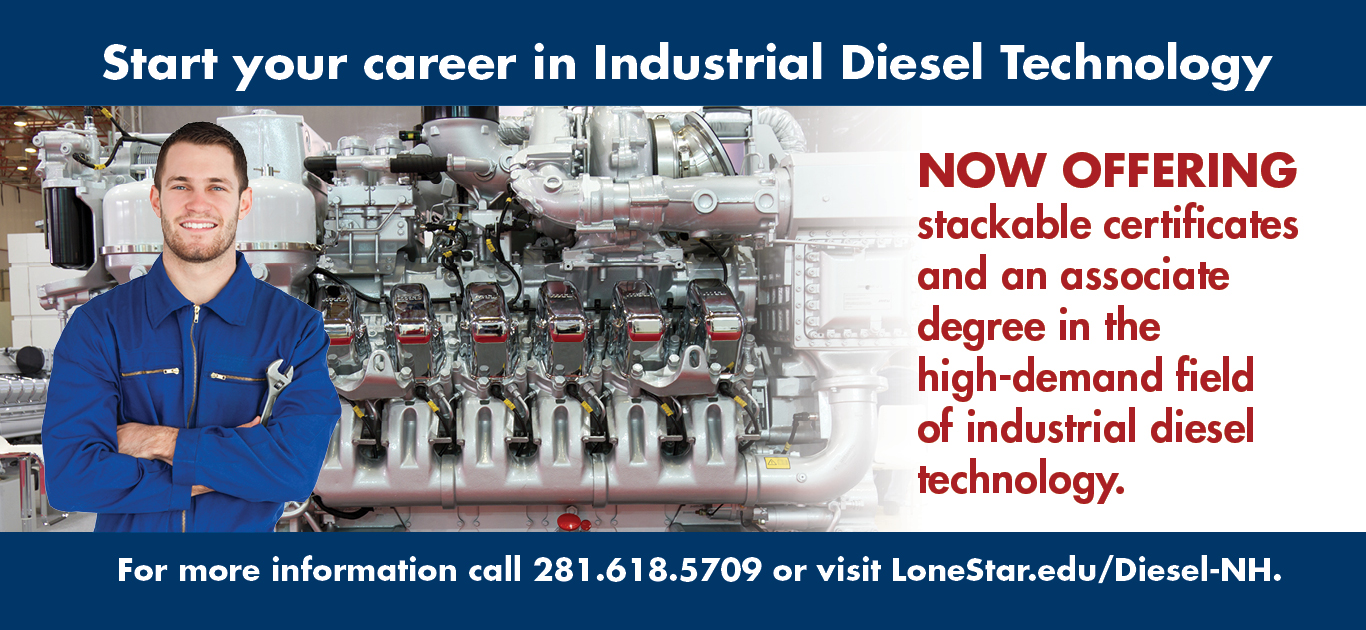 Big Opportunities
Industrial diesel technology is experiencing rapid growth as construction and oil extraction technologies evolve. Industrial diesel technology is the diagnosis, repair, and maintenance of large industrial diesel engines. Such engines may be used to power machines such as trains, large ships, electrical power generators, oil field fracking pumps, and heavy construction equipment
Designed by Experts
The industrial diesel technology program at LSC-North Harris has been designed by experts in the field and includes a combination of technical knowledge and hands-on skills. The curriculum covers a broad range of topics including hydraulic systems, computer diagnostic systems, and electrical troubleshooting skills.
In-demand Training
Graduates are prepared to enter the field as field service technicians, mechanics, and managers, with an average salary of approximately $42,000.
Frequently Asked Questions
How long does it take to complete the program?
The Diesel Technology Program is comprised of two "stackable" certificates and an AAS degree. Each certificate can be completed in as little as one 16 week semester. You can earn both certificates and the AAS degree in as little as two years if you take all the classes each semester in sequence.
How much does the program cost?
Tuition and fees for the Level I certificate - $1,218
Tuition and fees for the Level II certificate - $1160
Total Tuition and fees for AAS degree - $4,544
Does the program qualify for financial aid?
Yes. This program is for college credit and therefore qualifies.
What is a typical Diesel Technology course like?
The program is very hands-on. Classes are small with a very low student to instructor ratio. Students typically spend twice as much time in lab as they do in the classroom.
What makes this program unique?
Our diesel labs and classrooms are state-of-the-art and fully equipped. In addition, our students are enrolled in diesel courses from day one. As a result, our students gain valuable experience working with a wide variety of diesel equipment.
What job opportunities are out there?
Currently there is a shortage of diesel techs and employers are actively seeking qualified individuals. A student with solid grades and attendance may have several job opportunities before they graduate

For more information, call Kendall Lawrence, dean of career and applied technology, at 281.765.7949, or complete the application here.
Learn More
If you would like to be contacted by a representative about the new Diesel Technology Program, please complete the form below.