Introduction
Fabric of the Community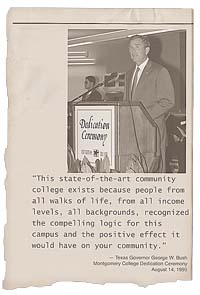 Lone Star College–Montgomery's founding president, Dr. Bill Law, began his presentations to the community by asking the audience to close its eyes and imagine that there was no LSC-Montgomery.
After a few short seconds, he would laugh, "Impossible, isn't it?"
Indeed, it is. In its short existence, the college has become an integral part of the community, a central meeting ground for Montgomery County, bridging north and south, east and west, in ways nothing else can do.
"Lone Star College–Montgomery has fulfilled the expectations of so many people," said John Wiesner, a Conroe business leader and longtime supporter of the college. "Education is a unifier, and in that respect, nothing has unified Montgomery County like LSC-Montgomery."
"The College has been one of our finest community assets since its inception," adds Karen Hoylman, president and CEO of the South Montgomery County Woodlands Chamber of Commerce. "It has served as a critical link-joining north and south Montgomery County on projects and programs of mutual interest. The college has provided outstanding service to our business community."
Demographically, the college mirrors the county in terms of the students it serves, a point that LSC-Montgomery's second president, Dr. Tom Butler, saw as critical.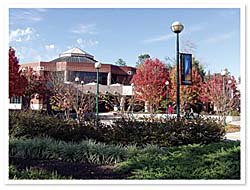 "A community college is all about meeting the needs of the entire community - not just certain segments. When I look at the totality of what LSC-Montgomery offers, I see a nice mix of career programs, university transfer, continuing education, leisure and more."
Not surprisingly, the community has responded. In credit classes alone, LSC-Montgomery has increased its enrollment, from 3,200 students in 1995 to more than 12,500 in 2010.
Just as important, the college has responded to the community's needs. For instance, continuing education programs, such as the Academy for Lifelong Learning (ALL) geared for active, older adults, were created to reach a growing retiree audience. Membership in ALL has climbed to more than 1,200 in just ten years.
Businesses that have relocated to the area are also keen on the college. These organizations see the college's ability to create customized training programs and develop a pool of potential employees as critical to their success.
Perhaps then Governor George W. Bush said it best at the college's dedication ceremony in 1995: "As we dedicate this building today, we are paving the way to the future of Texas. With your help, we will respond to the challenges of the 21st century and make Texas the beacon state we all want it to be."
To that end, LSC-Montgomery has certainly become a permanent, vital fixture in the community.