Jack Kent Cooke Scholarship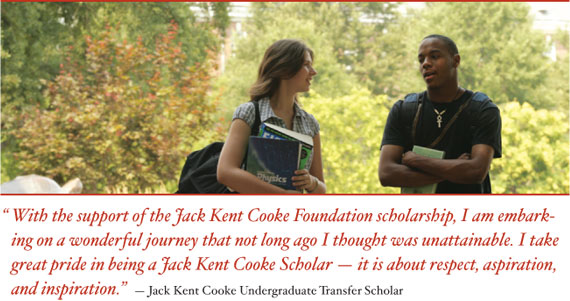 In spring 2013, the Jack Kent Cooke Foundation will award scholarships to help community college students and recent graduates with exceptional promise and demonstrated financial need reach their full potential through education. Scholarships worth up to $30,000 per year will be provided to community college students to help thm earn a four-year degree.
The Scholarship
The Jack Kent Cooke Undergraduate Transfer Scholarship Program enables community college students with exceptional promise and demonstrated financial need to pursue a baccalaureate degree. Demonstrated financial need includes (1) low family and student income and assets in light of educational expenses, and (2) substantial unmet educational costs after taking into account other scholarships and grants students may receive. Students in any discipline are eligible.
The Award
The Undergraduate Transfer Scholarship Program provides funding for tuition, room and board, required fees, and books for the remainder of the Scholar's undergraduate degree. Scholarship amounts vary based on several factors, including costs at the institution each recipient attends and other grants and scholarships the student receives. Awards can be for as much as $30,000 annually.
Minimum Eligibility
To be eligible for the program,

Students Should:
Demonstrate unmet financial need (this scholarship is need-based)
Show strong academic achievement and critical thinking ability
Show a breadth of accomplishment and involvement in the college and their community
Demonstrate a desire to effect positive social change and plan to attend one of the top universities in the nation consistent with their field of study
Show a will to succeed such as success in school, working while in school, overcoming obstacles of various kinds
Students Must:
Be a current student at an accredited U.S. community college or two-year institution with sophomore status OR a recent graduate (within the last five years),
Have a cumulative college grade point average of 3.50 or better on a 4.0 scale (or the equivalent),
Plan to transfer to a four-year college or university to begin studies in the coming fall, and
Be nominated by his or her two-year institution.
Application Procedure
Students must be nominated by their two-year institutions. They cannot apply directly. Each accredited two-year institution may nominate up to four candidates depending upon institutional enrollment. Plagiarism will result in disqualification from nomination.
Application Deadline
The campus deadline for application submission is November 16, 2012.
Additional Information
The Foundation
The Jack Kent Cooke Foundation is a private, independent foundation dedicated to advancing the education of exceptionally promising students. We offer several scholarship programs, including this program for community college students.
LSC Representative
To learn more about the nomination process, contact your campus representative. You can also visit the Jack Kent Cooke Foundation's Web site or call 1-888-264-3062. The Foundation does not accept applications directly from students.
Lone Star College–CyFair: Esther Robinson and Idolina Hernandez
Lone Star College-Kingwood: Dr. David Putz
Lone Star College–Montgomery: Betsy Powers
Lone Star College-North Harris: Laura Dupree
Lone Star College–Tomball: Dr. Margaret S. Jelinek-Lewis and Dr. Bo Rollins
Lone Star College–University Park: Frank M. Rodriguez