Jack Kent Cooke Scholarship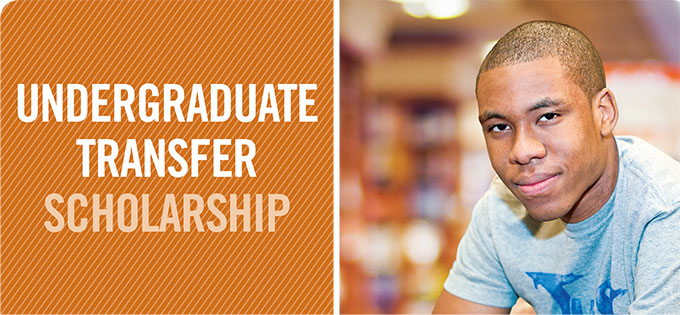 Download the Scholarship Flyer
The Jack Kent Cooke Foundation Undergraduate Transfer Scholarship makes it possible for the nation's top community college students to complete their bachelor's degrees by transferring to a four-year college or university. The Foundation provides up to $40,000 per year to each of approximately 85 deserving students selected annually, making it the largest private scholarship for two-year and community college transfer students in the country.
Selection Process and Criteria
The selection process for these awards is rigorous and highly competitive with approximately 85 scholarships awarded each year out of hundreds of applicants. A review panel of distinguished university faculty and admissions professionals judge the applicants using criteria including:
Achievement and academic ability
Financial need
Persistence
Leadership
Desire to help others
Minimum Eligibility Requirements
Be a current student at an accredited U.S. community college or two-year institution with sophomore status by December 31, 2014, or a recent graduate (since spring 2010).
Plan to enroll full time in a baccalaureate program at an accredited college or university in fall 2015.
Have a cumulative undergraduate grade point average of 3.5 or better on a scale of 4.0 (or the equivalent).
Demonstrate significant unmet financial need. We will consider applicants with family income up to $95,000. However, we anticipate that a majority of scholarship recipients will be eligible to receive a Pell grant.
Have not previously been nominated for the Jack Kent Cooke Foundation Undergraduate Transfer Scholarship.
Have not previously attended a four-year institution.
Please Note: Students who have attended a four-year institution in the past are not eligible for this scholarship. (If you started at a four-year institution, but did not complete a semester of full-time study, then you may be eligible. Please contact us to verify your eligibility.) Students who have already transferred to a four-year institution or plan to transfer to start during the spring 2015 semester are also not eligible for this scholarship.
While the Foundation considers academic excellence first in evaluating candidates, competitive applicants must also demonstrate unmet financial need, which has two components:
Education costs that are appreciably greater than the total amount of other scholarships or grant awards.
Insufficient student and family income to meet educational costs.
Application Deadline
Application period is now open until December 2.
Additional Information
The Foundation
The Jack Kent Cooke Foundation is a private, independent foundation dedicated to advancing the education of exceptionally promising students. The Foundation offers several scholarship programs, including this program for community college students.
LSC Representative
To learn more about this scholarship, contact your campus representative. You can also visit the Jack Kent Cooke Foundation's Web site or call 1-855-509-5253.
Lone Star College–CyFair: Esther Robinson
Lone Star College-Kingwood: Dr. David Putz
Lone Star College–Montgomery: Betsy Powers
Lone Star College-North Harris: Laura Dupree
Lone Star College–Tomball: Dr. Margaret S. Jelinek-Lewis and Dr. Bo Rollins
Lone Star College–University Park: Frank M. Rodriguez
Lone Star College-System Office: Debbra Esparza and Dr. Lynette O'Keefe