Kim Eichler–Messmer: Cold Comfort uses patterns and a love of fabric to relate to her own perceptions of the world. Often bones and teeth are uniquely incorporated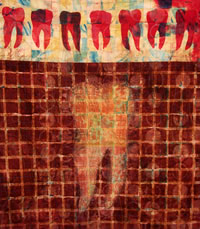 into her works to relate to the fragility of life. This exhibit will be on display January 8 through February 6 with an opening reception January 28 from 1-3 p.m.
The concepts for the quilts are often fueled by imagery found in the artist's dreams. Motifs such as teeth and bones represent transition and the fragility of life. Repeated themes and imagery work themselves out in her quilts. By paying attention to her subconscious and making intangible ideas visible, she is creating quilts that reflect a part of her. Themes that she continually return to are family, death, nature, transgression, and anxiety. To read more from the artist check out her statment regarding her work.