Career Exploration
Discover Your Career Path at FOCUS 2
Create your account by registering for FOCUS 2.

Already Have a FOCUS 2 Account?
What is FOCUS 2?
FOCUS 2 is an online, interactive career planning and exploration program specially designed for Lone Star College students to guide you through the career planning process.
Explore Lone Star College programs and job outlook in CareerStar
Salary and hiring trends
Required skills and education
In-demand employers
CareerStar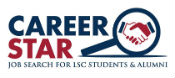 CareerStar is Lone Star College's job placement website for our students and alumni which is specifically focused on our degree programs. On CareerStar, you can create and post a resume. You can also search and apply for jobs and internships. Because CareerStar is only available to our students and alumni, you must register here to gain access to this job board.
CareerStar Basic Job Search Instructions CareerStar How to Guide for Students
Want to explore more? Click on the images below.
College Research
Career Services on Social Media
Visit us on social media for information on:
Current local job listings
Workshop schedule
Job search tips