Lone Star Leadership College
What is Lone Star Leadership College?
Lone Star Leadership College provides an opportunity to educate and mentor emerging student leaders for diverse roles of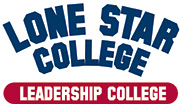 leadership linking the Lone Star College (LSC) and the community.  The goal of the program is to develop and enhance the leadership skills of its student participants, while encouraging an appreciation for giving back to the community.
Intensive monthly sessions in the three-month program allow students to explore and examine the local economy, government, arts and culture and more.  Participants also receive applicable skills training based on the StrengthsQuest program, a national leadership training course, as well as the opportunity to work in a team environment during a community service project.  The program is offered during both the fall and spring semesters.  The fall program begins in September and concludes in December, and the spring program begins in January and concludes in April.
Applicants must commit to attending all sessions, be currently enrolled at a Lone Star College campus or center, and plan to enroll for the fall and subsequent spring semesters.  Information is available through the Student Life/Student Activities Office at each campus.  Students must apply online, a selection committee will review the applications, and six students will be selected from each campus and/or center.
There is no cost to the participant.