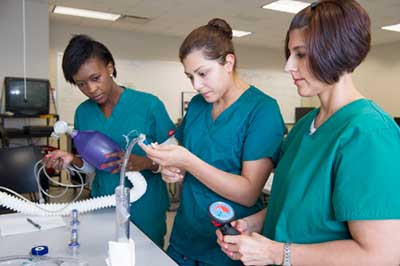 Seeking a career in the medical field no longer means being either a doctor or nurse. Respiratory care professionals are instrumental in the diagnosis, treatment, management, and preventive care of patients with cardiopulmonary problems.
Lone Star College-Kingwood's Respiratory Care program trains students to become skilled professionals who can carry out specific therapeutic measures that will assist respiratory-distressed patients. To learn more about the college's successful program, prospective students are invited to fall information sessions at the new Lone Star College-Process Technology Center on Aug. 15, Sept. 5, Oct. 9, Nov. 8 and Dec. 3 at 12:30 p.m. and on Aug. 29, Sept. 18, Oct. 25 and Nov. 27 at 5 p.m. Sept. 14 and Nov. 16 at 5 p.m. and Oct. 19 and Dec. 7 at 12:30 p.m. The center is located at 14001 Lockwood Road in Generation Park.
"Information will be given regarding the career, employment opportunities and potential salary. In addition, prospective students will learn about the program's education requirements and time requirements for the study and completion of the Respiratory Care Associate of Applied Science (AAS) degree program," said Fiona Campbell, respiratory care program director. "Didactic courses with laboratories and clinical/practicum courses will be discussed in order for students to have an overview of the program."
Respiratory care, offered during the day or evening, is a two-year program that leads to an Associate of Applied Science (AAS) degree. It is six semesters long and to earn the AAS degree, students must complete 66 credit hours. Students will learn the prevention, diagnostic and therapeutic treatment of cardio-pulmonary diseases. Intensive studies will be done in the mechanical ventilation realm and the resuscitation realm of treatment.
"The program prepares individuals to become active members of the health care team to deliver quality respiratory care and improve the lives of individuals they treat during their professional career of respiratory care," Campbell said.
Graduates can continue their educational opportunities through an articulation agreement with the University of Texas Medical Branch UTMB for a bachelor's degree in Respiratory Therapy. Students may also transfer credits to Midwestern State University for a bachelor's degree in Cardiopulmonary, Texas Tech University into the Health Care Management bachelor's degree program and University of Texas-Commerce in the Bachelor of Applied Arts and Sciences degree program.
For more information on LSC-Kingwood's Respiratory Care program or on the information sessions, email the department at KC-RespiratoryCare@LoneStar.edu or visit http://www.lonestar.edu/respiratory-care-dept-kingwood.htm.
Register now for credit classes online through myLoneStar. Classes are offered days, evenings, or weekends in traditional, online and hybrid formats. For more information or to register online, visit www.lonestar.edu/registration.
For general information about Lone Star College-Kingwood, call 281.312.1600 or visit http://lonestar.edu/kingwood.htm.
Lone Star College offers high-quality, low-cost academic transfer and career training education to 97,000 students each semester. LSC is training tomorrow's workforce today and redefining the community college experience to support student success. Stephen C. Head, Ph.D., serves as chancellor of LSC, the largest institution of higher education in the Houston area with an annual economic impact of $3.1 billion. LSC consists of six colleges, eight centers, two university centers, Lone Star Corporate College and LSC-Online. To learn more visit LoneStar.edu.
###