Academic Success Center
Our Vision
The Academic Success Center (ASC) fosters a productive learning environment for students, empowering them to succeed through quality academic support services, and maximizing their potential for academic success.
Our Mission Statement
The Academic Success Center fosters student learning and academic excellence by providing a comprehensive array of programs, resources and services that advance academic goal setting and skill development within the college.
Why Come to the ASC?
Tutoring and peer mentoring programs, workshops and seminars as well as several centers and labs are all available free as resources designed to help you succeed in your classes. ASC users say it's a quiet place to do homework and reviews and a great place to get help right away as needed.
Tutoring during semesters for Math, Chemistry, and Physics
Located in the Health Science Bldg. 2 (HSC2)
Early Alert Program
The Early Alert program is a faculty-initiated success and retention program.
Faculty should continue to be the first contact with a student who might have an issue. However, if their attempts are not successful, faculty may report their concerns regarding a student via the Early Alert tool in iStar.
The referrals are received by the Academic Success Center Advisor, who can assist and provide campus resources.
TSI Review Sessions
The ASC provides workshops, test-based reviews and practice material to help with placement testing which determines your current level of skills and knowledge in reading, writing and math.
For information about TSI review session, please call 281-290-3279.
You can view any of the following documents:
Follow these simple steps to access the Study App through a web browser from your desktop, tablet, or phone
Follow the link above
Add product to the cart
Check Out
College Board will send you an email with instructions to create your account
Go to the link provided in your email and follow their instructions
TSI Review Sessions (Spring 2019)
Subjects: M=Math R=Reading W=Writing
All Math review sessions will be in LRNC 205
All Reading/Writing sessions will be in LRNC 208C
| Date | Subject | Time |
| --- | --- | --- |
| January 7 | M & R | 12:00-2:00 pm |
| January 9 | M & W | 2:00-4:00 pm |
| January 16 | M & R | 5:00-7:00 pm |
| January 23 | M & W | 5:00-7:00 pm |
| January 30 | M & R | 5:00-7:00 pm |
| February 6 | M & W | 5:00-7:00 pm |
| February 13 | M & R | 5:00-7:00 pm |
| February 16 | M & W | 12:00-2:00 pm |
| February 20 | M & R | 5:00-7:00 pm |
| February 27 | M & W | 5:00-7:00 pm |
| March 6 | M & R | 5:00-7:00 pm |
| March 20 | M & W | 5:00-7:00 pm |
| March 27 | M & R | 5:00-7:00 pm |
| April 3 | M & W | 5:00-7:00 pm |
| April 10 | M & R | 5:00-7:00 pm |
| April 17 | M & W | 5:00-7:00 pm |
| April 24 | M & R | 5:00-7:00 pm |
| May 1 | M & W | 5:00-7:00 pm |
| May 8 | M & R | 5:00-7:00 pm |
| May 13 | M & W | 12:00-2:00 pm |
| May 15 | M & R | 2:00-4:00 pm |
| May 20 | M & W | 12:00-2:00 pm |
| May 22 | M & R | 2:00-4:00 pm |
| May 29 | M & W | 12:00-2:00 pm |

Academic Success Center Video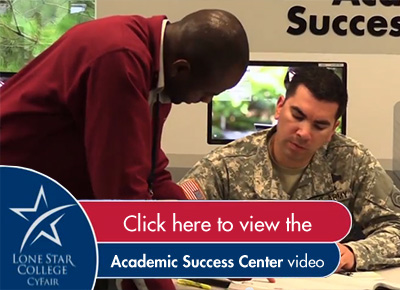 Contact Information
Academic Success Center
2nd Floor
Learning Commons / Library
9191 Barker Cypress Rd
Cypress, TX 77433
281.290.3279
cyfair.asc@lonestar.edu