Learning Garden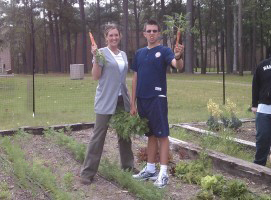 The Lone Star College-Kingwood, College Sustainability program has established a Learning Garden in collaboration with Humble ISD MOSAIC students (Meeting Our Students' Academic and Individual Challenges). The Learning Garden consists of a butterfly garden and two vegetable plots. The MOSAIC students, who are on campus every day for classes, work in the Learning Garden for an hour one day/week. They are assisted by the college OTA Club (Occupational Therapy Assistants) and Be-A-Teacher Club students.
There is an urgent need for help weeding the Learning Garden over the summer. If you can spare an hour or two, please come out and help. We have some help, but can always use more. Pull some weeds and plant a crop. Leave a reply and I'll come help.
A weekly series of posts of Sustainable Garden Movement Talking Points appear on the Posts page of this blog. Check it out weekly.
Gardening is the most sustainable activity.