Disability Services Office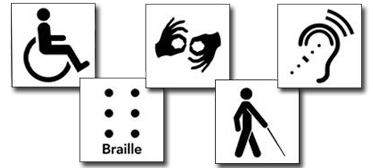 Disability Services Office


The Disability Services Office at LSC-North Harris strives to promote equal access to education for all individuals. We endeavor to create an environment based on the principles of Universal Design where students, faculty, and staff work together to ensure people with disabilities have full access to all learning, events and buildings.
We provide:
Classroom and examination accommodation letters
Assistive Technology
Sign Language interpreters and captioning
Accommodation advice/training for LSC-North Harris instructors
Information about community resources
A process for reporting accessibility issues
Adjustments for Veterans
Legal Basis for Disability Services:

The System and each college comply with Section 504 of the Rehabilitation Act and the Americans with Disabilities Act. In accordance with these laws, the college provides reasonable accommodations to students with disabilities and assures access to college facilities, programs, and activities.
Students should contact Disability Services personnel regarding disputes or concerns about the interpretation of or the provision of academic adjustments and auxiliary aids.
Student Club - Ability Group
Weekly Meetings
Wednesdays and Thursdays
Library, LB-305
Noon - 1 p.m.