Adult Book Clubs - LSC-CyFair
See also:
Children's Book Clubs
Teen Book Clubs
YA for Adults Book Club
Young adult (YA) books are not only for teens! If you are an adult who is forever young, join us for great discussions on YA books. We will meet the 2nd Tuesday of the month at 6:30 p.m. in LRNC 131. Questions? Contact Melanie Wachsmann at 281-290-5917 or melanie.s.wachsmann@lonestar.edu.

December 11 - The 57 Bus by Dashka Slater
"If it weren't for the 57 bus, Sasha and Richard never would have met. Both were high school students from Oakland, California, one of the most diverse cities in the country, but they inhabited different worlds. Sasha, a white teen, lived in the middle-class foothills and attended a small private school. Richard, a black teen, lived in the crime-plagued flatlands and attended a large public one. Each day, their paths overlapped for a mere eight minutes. But one afternoon on the bus ride home from school, a single reckless act left Sasha severely burned, and Richard charged with two hate crimes and facing life imprisonment. The case garnered international attention, thrusting both teenagers into the spotlight." - publisher summary excerpt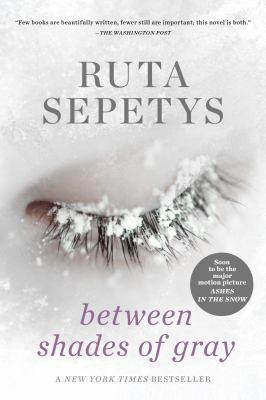 January 8: Between Shades of Gray by Ruta Sepetys
"Fifteen-year-old Lina is a Lithuanian girl living an ordinary life -- until Soviet officers invade her home and tear her family apart. Separated from her father and forced onto a crowded train, Lina, her mother, and her young brother make their way to a Siberian work camp, where they are forced to fight for their lives. Lina finds solace in her art, documenting these events by drawing. Risking everything, she imbeds clues in her drawings of their location and secretly passes them along, hoping her drawings will make their way to her father's prison camp." - publisher summary excerpt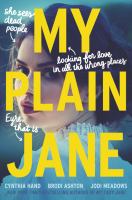 February 12: My Plain Jane by Cynthia Hand
"You may think you know the story. Penniless orphan Jane Eyre begins a new life as a governess at Thornfield Hall, where she meets one dark, brooding Mr. Rochester--and, Reader, she marries him. Or does she? Prepare for an adventure of Gothic proportions, in which all is not as it seems, a certain gentleman is hiding more than skeletons in his closets, and one orphan Jane Eyre, aspiring author Charlotte Bronte, and supernatural investigator Alexander Blackwood are about to be drawn together on the most epic ghost hunt this side of Wuthering Heights." - publisher summary excerpt
Back in Time: Historical Fiction Book Club
If you like a bit of fiction with your history, join us for great discussions each month at 1:00 p.m. in LRNC 131 on the following dates. For more information, please contact Susan Green at 281.290.3242 or susan.e.green@lonestar.edu for more information.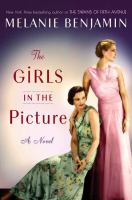 December 6 - Girls in the Picture by Melanie Benjamin
It is 1914, and twenty-five-year-old Frances Marion has left her (second) husband and her Northern California home for the lure of Los Angeles, where she is determined to live independently as an artist. . .Turn any corner in this burgeoning town and you'll find made-up actors running around, as a movie camera captures it all. In this fledgling industry, Frances finds her true calling writing stories for this wondrous new medium. She also makes the acquaintance of actress Mary Pickford, whose signature golden curls and lively spirit have given her the title of America's Sweetheart. The two ambitious young women hit it off instantly, their kinship fomented by their mutual fever to create, to move audiences to a frenzy, to start a revolution. . .As in any good Hollywood story, dramas will play out, personalities will clash, and even the deepest friendships might be shattered." - publisher summary excerpt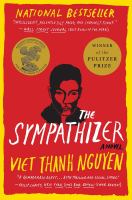 January 3 - The Sympathizer by Viet Thanh Nguyen
"The winner of the 2016 Pulitzer Prize for Fiction...With the pace and suspense of a thriller and prose that has been compared to Graham Greene and Saul Bellow, The Sympathizer is a sweeping epic of love and betrayal. The narrator, a communist double agent, is a "man of two minds," a half-French, half-Vietnamese army captain who arranges to come to America after the Fall of Saigon, and while building a new life with other Vietnamese refugees in Los Angeles is secretly reporting back to his communist superiors in Vietnam."- publisher summary excerpt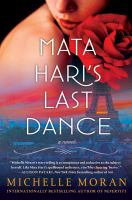 February 7 - Mata Hari's Last Dance by Michelle Moran
"Paris, 1917. The notorious dancer Mata Hari sits in a cold cell awaiting freedom...or death. Alone and despondent, Mata Hari is as confused as the rest of the world about the charges she's been arrested on: treason leading to the deaths of thousands of French soldiers. As Mata Hari waits for her fate to be decided, she relays the story of her life to a reporter who is allowed to visit her in prison. Beginning with her carefree childhood, Mata Hari recounts her father's cruel abandonment of her family as well her calamitous marriage to a military officer. Taken to the island of Java, Mata Hari refuses to be ruled by her abusive husband and instead learns to dance, paving the way to her stardom as Europe's most infamous dancer." - publisher summary excerpt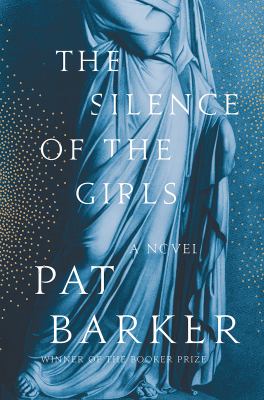 March 7 - The Silence of the Girls by Pat Barker
"The ancient city of Troy has withstood a decade under siege of the powerful Greek army, who continue to wage bloody war over a stolen woman--Helen. In the Greek camp, another woman watches and waits for the war's outcome: Briseis. She was queen of one of Troy's neighboring kingdoms, until Achilles, Greece's greatest warrior, sacked her city and murdered her husband and brothers...Pat Barker brings the teeming world of the Greek camp to vivid life. She offers nuanced, complex portraits of characters and stories familiar from mythology, which, seen from Briseis's perspective, are rife with newfound revelations." - publisher summary excerpt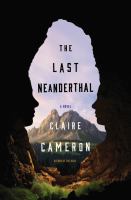 April 4 - The Last Neanderthal by Claire Cameron
"The enthralling story of two women separated by millennia, but linked by an epic journey that will transform them both. Forty thousand years in the past, the last family of Neanderthals roams the earth. After a crushingly hard winter, their numbers are low, but Girl, the oldest daughter, is just coming of age and her family is determined to travel to the annual meeting place and find her a mate. But the unforgiving landscape takes its toll, and Girl is left alone to care for Runt, a foundling of unknown origin. As Girl and Runt face the coming winter storms, Girl realizes she has one final chance to save her people, even if it means sacrificing part of herself. In the modern day, archaeologist Rosamund Gale works well into her pregnancy, racing to excavate newly found Neanderthal artifacts before her baby comes. Linked across the ages by the shared experience of early motherhood, both stories examine the often taboo corners of women's lives." - publisher summary excerpt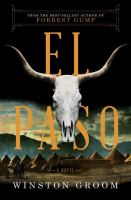 May 2 - El Paso by Winston Groom
"Pitting the legendary Pancho Villa against "the Colonel," a thrill-seeking Bostonian railroad tycoon whose fading fortune is tied up in a colossal ranch in Chihuahua, El Paso opens during a time of dramatic upheaval in Mexico--its government being squeezed on one end by Villa's revolutionaries and on the other by "filthy" American capitalists. Content to observe the war from aboard his dazzling yacht, the Ajax, the Colonel is suddenly pulled into this drama when his famous Valle del Sol ranch is raided for nearly "two million and a half dollars in beef on the hoof." Oblivious to the realities of war and hoping to salvage his losses, the Colonel whisks his family down to Mexico where they make a disturbing discovery: it was Villa who not only stole the cattle but also murdered their beloved ranch manager. Even worse, Villa's henchmen abduct the Colonel's grandchildren in another daring raid only days later. The novel explodes into an epic as an extraordinary cast of characters from both history and imagination begin to emerge, all vying to get their hands on the ever-elusive Villa...Replete with shootouts, daring escapes, and an unforgettable bullfight, El Paso brings to life a crucial moment in history and, in the process, becomes an indelible portrait of the American Southwest in the final days of the wild frontier." - publisher summary excerpt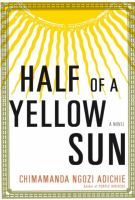 June 6 - Half of a Yellow Sun by Chimamanda Ngozi Adichie
"With astonishing empathy and the effortless grace of a natural storyteller, Chimamanda Ngozi Adichie weaves together the lives of three characters swept up in the turbulence of the decade. Thirteen-year-old Ugwu is employed as a houseboy for a university professor full of revolutionary zeal. Olanna is the professor's beautiful mistress, who has abandoned her life of privilege in Lagos for a dusty university town and the charisma of her new lover. And Richard is a shy young Englishman in thrall to Olanna's twin sister, an enigmatic figure who refuses to belong to anyone. As Nigerian troops advance and the three must run for their lives, their ideals are severely tested, as are their loyalties to one another." - publisher summary excerpt
Books without Borders Book Club
Throughout the year our group will be reading books, both fiction and nonfiction, that highlight the literature, culture, environment, and politics of various parts of the world. Each month a LSC-CyFair faculty member will facilitate the conversation on the dates listed below at 1:00 p.m. in LRNC 131. Join us as we delve into Books without Borders. Contact Rachel Renick at 281.290.5254 or rachel.l.renick@lonestar.edu for book copies and more information.
December 2018 - No discussion will be held.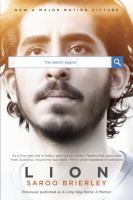 January 17 - A Long Way Home (aka Lion) by Saroo Brierley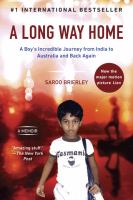 Facilitator: Rachel Renick, Reference Librarian
"At only five years old, Saroo Brierley got lost on a train in India. Unable to read or write or recall the name of his hometown or even his own last name, he survived alone for weeks on the rough streets of Calcutta before ultimately being transferred to an agency and adopted by a couple in Australia. Always wondered about his origins, and with the advent of Google Earth, he had the opportunity to look for the needle in a haystack he once called home. After years of searching, he miraculously found what he was looking for and set off to find his family."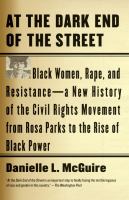 February 21 - At the Dark End of the Street: Black Women, Rape, and Resistance: A New History of the Civil Rights Movement from Rosa Parks to the Rise of Black Power by Danielle L. McGuire
Facilitator: Bobby O'Brien, History Professor
"A history of America's civil rights movement traces the pivotal influence of sexual violence that victimized African American women for centuries, revealing Rosa Parks's contributions as an anti-rape activist years before her heroic bus protest."
I Love a Mystery Book Club
Whether you savor a cozy murder mystery, a classic whodunit, or a thriller, I Love a Mystery Book Club is a great way to add to your "to read" list. The group meets the last Wednesday of the month at 12:00 p.m. in LRNC 131. For more details, contact Claire Gunnels at 281.290.3241 or claire.b.gunnels@lonestar.edu.

Check the Harris County Public Library mystery newsletter for book suggestions.

Upcoming Schedule:
December 26: No Meeting - Happy Boxing Day!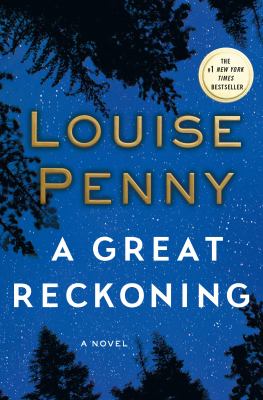 January 30: A Great Reckoning by Louise Penny
"When an intricate old map is found stuffed into the walls of the bistro in Three Pines, it at first seems no more than a curiosity. But the closer the villagers look, the stranger it becomes. Given to Armand Gamache as a gift the first day of his new job, the map eventually leads him to shattering secrets." - publisher summary excerpt

February 27: Adam Dalgleish (Scotland Yard) titles or Cordelia Gray (private investigator) titles by P.D. James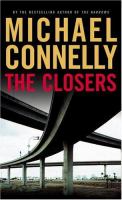 March 27: The Closers by Michael Connelly
"He walked away from the job three years ago. But Harry Bosch cannot resist the call to join the elite Open/Unsolved Unit. His mission: solve murders whose investigations were flawed, stalled, or abandoned to L.A.'s tides of crime. With some people openly rooting for his failure, Harry catches the case of a teenager dragged off to her death on Oat Mountain, and traces the DNA on the murder weapon to a small-time criminal. But something bigger and darker beckons, and Harry must battle to fit all the pieces together." - publisher summary excerpt
---