Searching the Library Catalog

---
What is a Library Catalog?
The Library Catalog allows users to search individual records for items in the library collection. These items in the library collection include: print books, e-books, magazines and journals, and audio-visual materials. The Lone Star College System Library Catalog allows users to search all of the LSCS libraries, as well as the Montgomery County Library and Harris County Library collections.
Searching the Library Catalog
Searching the catalog is simple and easy! Follow these steps:
Navigate
Go to the library catalog website http://hcpl2.ent.sirsi.net/client/en_US/lsc/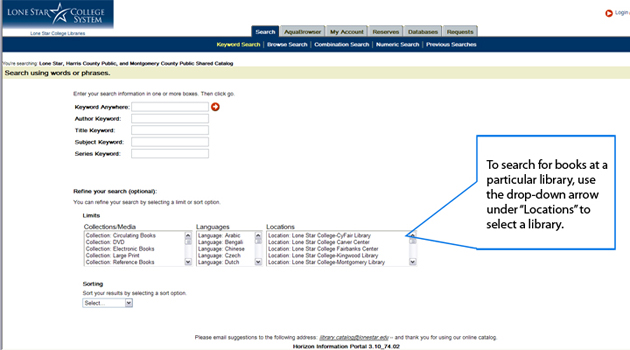 The catalog contains a listing of all books at the libraries in the Lone Star College system, the Montgomery County Public Libraries and the Harris County Public Libraries.
Search
In the search box, type in the subject or topic you are trying to research. In this example, we are searching for materials on gun control in the LSC-Montgomery Library.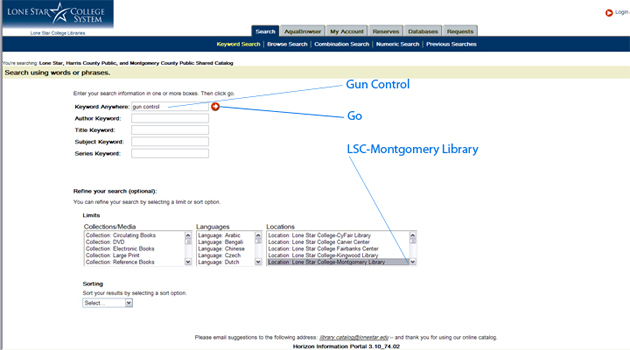 4. After clicking on "enter" or the white arrow in the red circle, we see that there are 35 items on gun control at the LSC-Montgomery Library.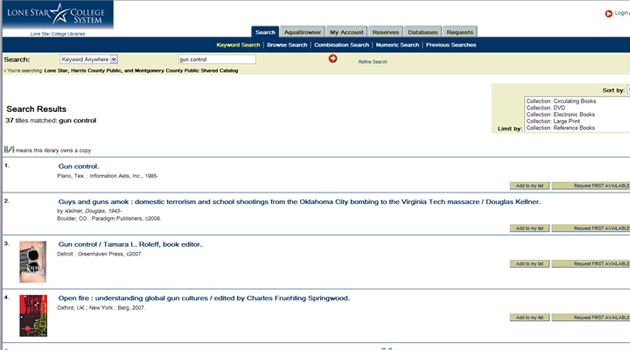 You can limit your search to items you can check-out by selecting "Collection: Circulating Books" from the Collections/Media menu.
To limit your search to items located at Montgomery Library, select "Location: LSC-Montgomery" in the Locations menu.
Review
To learn more about am item, click on one of the blue titles. For example, click on Gun Violence,, the fifth title down.
The last step is to determine the status of the book, whether it is a circulating book or a reference book, whether it is checked in or out, or is on order or is missing.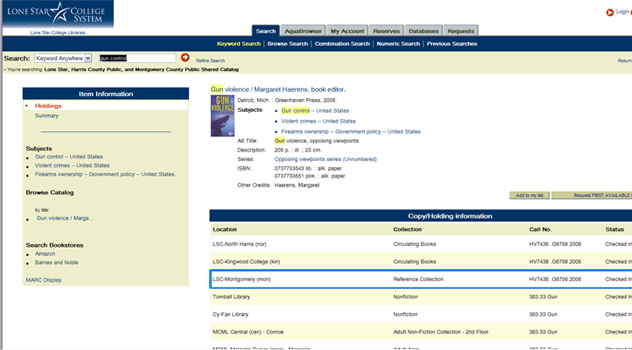 Access a Resources
If you have successfully located a book that is available, write down the call number and go to the circulating book shelves. Then take the book to the circulation desk to check it out.
Requesting items not available at Montgomery Library:
If there is an item listed in the catalog, but it is not located at Montgomery Library, just select the "Request First Available Copy of this Item" button from the catalog record to have the item sent to Montgomery Library for pick-up. To complete your request, you need your library barcode and PIN number. Generally, your PIN number is the last 4 digits of the phone number you used to register for classes. If you have problems requesting an item, contact the Circulation Desk in person, at 936.273.7387 or email mclr@lonestar.edu
If the item is not available in the catalog:
Just select the "Requests" tab located in the upper, right-hand side of the screen. Complete and submit the Inter-Library Loan Request Form – LSCS. Contact a librarian if you need help!