Story Times - LSC-CyFair
Letter to Story Time Parents and Caregivers (PDF)
---
June 1-August 8 Children's Activities - Summer Reading Program 2015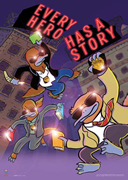 Note: Day care groups - Please call 281-290-3211 to schedule a visit.
Ticket distribution begins 1 hour prior to story time.
Age and ticket limits for story times are listed below.
Tickets will be handed out to the child within the age range and siblings may attend.
Take home activities are for ticketed children only.
Story Time Schedule
Baby Time – Mondays at 9:30 a.m., 10:30 a.m., and 11:30 a.m. (ages up to 24 months)
Features stories, songs, finger plays, and occasional crafts - limited to 25/session
Toddler Time – Tuesdays at 9:30 a.m., 10:30 a.m., and 11:30 a.m. (ages 2-3½ years)
Features stories, songs, finger plays, and occasional crafts - limited to 35/session
Family Time – 2nd and 4th Tuesdays at 6:30 p.m. (ages 3-6 years)
Features stories, songs, finger plays, and occasional crafts - limited to 35/session
Preschool Time – Wednesdays at 10:00 a.m. and 11:00 a.m. (ages 3-6 years)
Features stories, songs, finger plays, and occasional crafts - limited to 35/session
Spanish Time – Thursdays at 11:00 a.m. (ages 2-6 years)
Features stories, songs, finger plays, and occasional crafts - limited to 35/session
---
Contact the LSC-CyFair Library: chat | e-mail | voice - 281.290.3211 | text - 832-463-0478
Maintained by: P. Gonzales-Assistant Director for Children's Services
paula.m.gonzales@lonestar.edu