Poet Laureate 2009 - Emma Zarate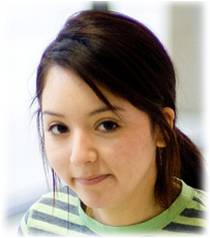 Emma's poem "The Earth" was selected as the first place entry by the judges in the third annual LSCS-North Harris Student Poet Laureate competition. Another of her submissions was chosen as the second place winner leaving no doubt that she is the right person to represent the NH campus as the 2008-2009 Student Poet Laureate.
Emma has been attending North Harris since 2006 working to complete her Associate of Science Degree. She plans to transfer to a university to complete her Bachelor's Degree in computer science with emphasis in computer programming. With her degree, she would like to work as a video game programmer.

Emma's interests include writing, drawing, playing video games, learning the guitar and sewing. She is currently working on putting her writing and drawing together in the form of a comic book. She expresses her sewing talent in the form of costumes she makes and sells at conventions.
"It's hard work to keep your options open." - Emma Zarate

Emma's winning poem:
The Earth
Round in essence
Beauty is revealing of its purity
It revolves around a pole
Symmetric but not symmetric
Spinning but not spinning
Relativity means nothing to a sphere
It sees the same thing in every direction
Sparkles of light forming different pictures
With every spin it paints itself a new picture
Sometimes goats and twins
And other times large fiery balls of gas
Barely miss its peaks
But hit its pools