LSCS Libraries
|
Research Guides
|
LSC-Kingwood Assignment Guides
|
Hamlet by William Shakespeare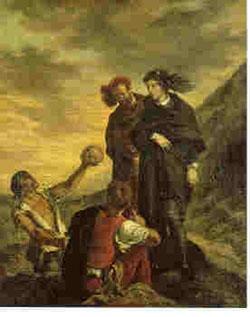 Lone Star College-Kingwood Library
Assignment Guide
William Shakespeare
(1564 - 1616)
First published circa 1601-1602, Hamlet was called "a milestone in Shakespeare's dramatic development. According to most critics, the playwright achieved artistic maturity in this work through his brilliant depiction of the hero's struggle with two opposing forces: moral integrity and the need to avenge his father's murder."
Mark W. Scott, ed. Shakespeare for Students. Introduction.
Background
"Hamlet is one of the central works of modern European culture, probably thought and written about more than any other play. In a comprehensive sense it is by now William Shakespeare's text plus its world-wide reverberations through centuries of theatrical interpretation, critical analysis, and reshaping by other creative authors--a vast body of 'commentary' ranging from pious exegesis to malicious mockery. Hamlet's intensity and complexity evoke seemingly infinite responses which say as much about their authors and periods as about the play."

Holger Klein. "Hamlet: Overview." Reference Guide to English Literature. 2nd ed. Ed. D. L. Kirkpatrick. St. James P,
1991. Reproduced in Literature Resource Center. Gale Group. Kingwood Coll. Lib., Kingwood. 25 Mar. 2003.
< http://infotrac.galegroup.com >
---
Characters
Hamlet - Prince of Denmark. King Hamlet's son and Claudius's nephew
Ghost - King Hamlet's spirit instructs Hamlet to avenge his murder
Claudius - Hamlet's uncle who murders his brother and marries his queen, Gertrude.
Gertrude - Queen of Denmark Polonius - Claudius's chief counselor
Ophelia - Polonius's daughter
Laertes - Polonius's son who avenges his father's accidental death by Hamlet
Rosencrantz and Guildenstern - two of Hamlet's school friends asked to find out about Hamlet's madness by Claudius and Gertrude
---
Overview
Look at the list of books below for topics or thesis statement ideas. Many more books on Shakespeare and Hamlet can be found by searching the Lone Star College-Kingwood Library online Catalog. Use Hamlet or Shakespeare as subject keywords.; Online full text books containing Shakespeare criticism are available through Netlibrary (see below for more information). Hamlet; Shakespeare Made Easy, a side by side book is on reserve at the Circulation Desk.
---
Books
Librarian Talk . . . About Books!
Books offer helpful information about time periods, authors and the literary works. Use them to help begin your review of literature on Hamlet .
Apply online for a library card. Use your card to 1) Place a Hold on a book and have it sent to the library closest to you 2) Access journal and reference databases from home, and 3) Access Online Book Database (NetLibrary).
Online books (database paid for by our libraries) are available at NetLibrary. Use the barcode number from your Lone Star College ID or library card to log in. Create a free account to save favorite titles or your own notes on the books you read.
Reference Books:
Ref PN50 .L574, v.1 - Literature and Its Times
Ref PR 2987.S47 - Shakespeare for Student
Ref PR2989 .S53 - Shakespeare's Characters for Students
---
Circulating Books:
PR 2807.H2657 - Hamlet: New critical essays
PR 2899.K65 - Some Shakespearean Themes & An approach to 'Hamlet'
PR2992.D38 H36 - Shakespeare's Daughters
---
Journal Articles
Databases are electronic resources for finding articles from journals, magazines and newspapers. You can find scholarly journal articles which discuss Hamlet in the databases listed below.
Librarian Talk . . . About Finding Journal and Newspaper Articles!
Electronic databases are purchased by the libraries for your research use. To find articles in newspapers and journals, letters, reference books, illustrations, photographs and more, use your updated library card to login to the following databases. If you find an interesting article that is not full-text, please give the correct bibliographic information to our Reference Librarians and they will see that you get the article. They will need full bibliographic information - and your name and address. Send your phone number as well, so they can contact you if they need to. There is some overlap of articles in the following databases. However, we encourage you to use more than one. All are excellent sources for this topic.

HINT: For a full list of article databases, go to http://www.lonestar.edu/article-databases.htm and use the barcode number from your Lone Star College ID or library card for login.
Academic Search Complete - This multi-subject database contains many articles which analyze Shakespeare's Hamlet. To retrieve scholarly journal articles, enter "Hamlet and Shakespeare" and limit your results to Scholarly (peer reviewed) Journals. If an article is not full text in this database, it may be available on microfiche in the library.
Literature Resource Center - Search by title. The database contains full text articles from reference books,Twayne's Masterworks books, and journal articles, some full text and some excerpted.
MLA International Bibliography - This is the oldest and most authoratative index of scholarly, literary journals. Many of these articles may not be full text in the database, but are located on microfiche in the library. Ask a librarian if you need help using the microfiche reader/printer.
NetLibrary - This database of full text online books contains criticism on Shakespeare.
ProQuest Research Library - A multi-subject database. Limit your search to Scholarly journals including peer reviewed in order to find scholarly journal articles.
JSTOR Arts & Sciences - Search or browse the complete back issues for scholarly journals in literature, economics, history, social sciences, science and mathematics.The most current issue available is determined by publisher agreements and varies.
Project MUSE - Search and browse the full text of recent scholarly journals in the arts, humanities and social sciences.
---
Internet
Librarian Talk about the Internet!

The internet can be a wonderful source of original documents. Browse the sites we have suggested below. Remember, you DO want to find reputable sites. Evaluate for:

Accuracy - The information should be researched and show proof of that research.
Source - Look at the domain: .edu .gov .org .net are valid research sources. Your company's website is also a valuable resource.
Authority - What are the author's credentials? (Don't quote from another college freshman's paper.)
Coverage - Does the page have the information you need for your research?
Objectivity - If a work is biased, use it - just make sure your professor knows YOU know. Offer both sides of issues, where applicable.
---
SUPPORT: Getting help with your assignment

Librarian Talk about getting help!
Support for a successful paper is more than finding the right resources. Putting it all together takes time and effort. Sometimes it takes additional help from the librarians or tutors. Please consider the following resources if you need additional help. Remember, the expert on the assignment is your professor; use the eCollege VISTA in-class email to contact her.
Citing Sources Using MLA Style | Lone Star College-Kingwood Library guide. Examples of both paper and electronic citations.
Avoiding Plagiarism | Excellent information and guide on how to avoid plagiarism from the Online Writing Lab (OWL) at Purdue University.
University of Texas Copyright Crash Course | This helpful guide on copyright is suggested by Lone Star College-Kingwood Teaching and Learning Center.
The Learning Center | Check the TLC hours for in-house tutoring.
---
LSC-Kingwood Library Assignment Guides | Lone Star College Libraries | Write us
Page by Claire Gunnels 3/25/03. Updated 06/09 SS